Another Love Song...what do you guys think?
This was made by a group called BBP from northern cali...The main singer is my Boyfriends cousin...He told me to show my friends but id rather show how cute this song is to everyone!
http://www.youtube.com/watch?v=6LOA9Kq494s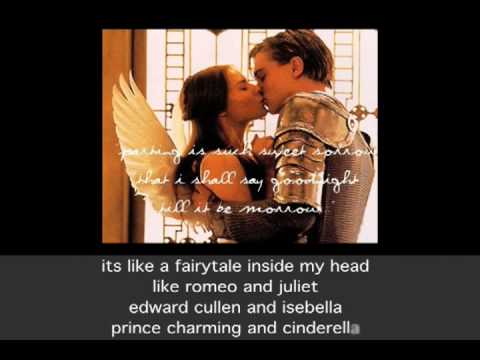 It's definitely a cute song and the lyrics are very creative. From my experience as a songwriter however, I can tell you that one criticism you are likely to face is that you have an awful lot of words and you sing them so fast that it's hard to hear each word so, the listener cannot truly appreciate the lyrics. It's more like a rap tune. Which tends to have lots of words but spoken, not sung so the rap is more easily understood. I liked the video production, it was very good and professionally done. It may help if you slowed down the tempo a bit. that would make it easier to understand the words. Adding a few chords could also help which would change the melody just enough to make it more unique. The hit records that come to your mind most often likely have unique chord progressions. If you were to study all the top ten songs for the last five years or so, you will see that is true. I like it but, in my opinion, it still needs work. Don't give up on it and see if there are ways you can improve on the melody and somehow make the vocal stand out so that every word is easily understood. Or, you might consider saying the same thing with less words. I know, I hate it when I get that kind of criticism on my own songs. I tend to be a little wordy myself. But, I know that is right. If people can't understand the words, they will never know how cute and creative the lyrics really are. If the melody were more memorable, you would at least have that but, that is generally not enough. A unique melody that won't stop playing in your mind coupled with great lyrics that strike some meaning and emotion (a strong feeling) in the listener are what make the best top ten tunes. You guys have loads of talent so keep working at it. Study the top ten tunes of the last five years for ideas and go back to the drawing board and produce a better melody and create a song that gets and holds the attention of lots of people and you have a hit on your hands. Good luck to you!

You ought to depart this different guy on my own without reference to what you believe for him... it is not reasonable on your husband in any respect. Unless you intend on leaving your husband you ought to supply your whole concentration to him and after time your emotions for this different guy will dwindle. And in case your that unsatisfied, then depart... your husband gets over it. It's now not reasonable to him what your doing. And if this different man left his spouse for, do you consider he'd be trustworthy to you if anybody else got here alongside!
Still have questions? Get your answers by asking now.