American Folk singer Pete Seeger is 90 years old today!?
We may be wondering Where have all the flowers gone, but he's still going strong.
http://www.npr.org/templates/story/story.php?story...
http://www.youtube.com/watch?v=yaUN9T7Yx7U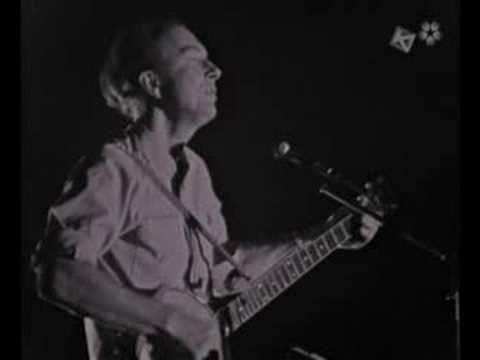 &feature=related
HAPPY BIRTHDAY PETE!!!!!!!!!!!
Peter "Pete" Seeger (born May 3, 1919) is an American folk singer, and a key figure in the mid-20th century American folk music revival. A fixture on nationwide radio in the 1940s, he also had a string of hit records during the early 50s as a member of The Weavers, most notably the 1950 recording of Leadbelly's "Goodnight, Irene" that topped the charts for 13 weeks in 1950.[1] In the 1960s, he re-emerged on the public scene as a pioneer of protest music in support of international disarmament and civil rights and, more recently, as a tireless activist for environmental causes.

As a song writer, he is best known as the author or co-author of "Where Have All the Flowers Gone?", "If I Had a Hammer (The Hammer Song)" (composed with Lee Hays of The Weavers), and "Turn, Turn, Turn!", which have been recorded by many artists both in and outside the folk revival movement and are still sung throughout the world. "Flowers" was a hit recording for The Kingston Trio (1962), Marlene Dietrich, who recorded it in English, German and French (1962), and Johnny Rivers (1965). "If I Had a Hammer" was a hit for Peter, Paul & Mary (1962) and Trini Lopez (1963), while The Byrds popularized "Turn, Turn, Turn!" in the mid-1960s, as did Judy Collins in 1964. Seeger was one of the folksingers most responsible for popularizing the spiritual "We Shall Overcome" (also recorded by Joan Baez and many other singer-activists) that became the acknowledged anthem of the 1960s American Civil Rights Movement, soon after folk singer and activist Guy Carawan introduced it at the founding meeting of the Student Nonviolent Coordinating Committee (SNCC) in 1960.

Contents [hide]

1 Family and personal life

2 Musical career

2.1 Early work

2.2 Group recordings

2.3 Banjo and Twelve String Guitar

2.4 Recent work

2.5 Obama Inaugural Celebration

2.6 90th Birthday Celebration

3 Activism

3.1 Pre-1950

3.2 Spanish Civil War songs

3.3 1950s and early 1960s

3.4 Vietnam War era

3.5 Environment

3.6 Solo Career and the Folk Song Revival

4 Criticism

5 Selected discography

6 Tribute Albums

7 Awards

8 Quotes

8.1 From Seeger

8.2 From others

9 See also

10 Notes

11 References

12 External links

[edit] Family and personal life

Pete Seeger, 88 years of age, photographed in March 2008 with his friend, the writer/musician Ed Renehan.Seeger was born in French Hospital, Midtown Manhattan. His parents were living with his grandparents in Patterson, NY from 1918-1920. His father, Charles Louis Seeger, Jr., was a composer and pioneering ethnomusicologist, investigating both American folk and non-Western music. His mother, Constance de Clyver Edson, was a classical violinist and teacher.[2] His parents divorced when Seeger was seven. His stepmother, Ruth Crawford Seeger, was one of the most significant female composers of the 20th century. His eldest brother, Charles Seeger III, was a radio astronomer, and his next older brother, John Seeger, taught for years at the Dalton School in Manhattan. His uncle, Alan Seeger, a noted poet, was killed during the First World War. His half-sister, Peggy Seeger, also a well-known folk performer, was married for many years to British folk singer Ewan MacColl. Half-brother Mike Seeger went on to form the New Lost City Ramblers, one of whose members, John Cohen, was married to Pete's other half-sister, singer Penny Seeger.

In 1943 Pete married Toshi-Aline Ohta, whom he credits with being the support that helped make the rest of his life possible. Pete and Toshi have three children, Daniel, (an accomplished photographer and film maker) Mika and Tinya, and grandchildren Tao, Cassie, Kitama, Moraya, Penny, and Isabelle. Tao is a folk musician in his own right, singing and playing guitar, banjo and harmonica with The Mammals. Kitama Jackson is a documentary filmmaker who was associate producer of the PBS documentary Pete Seeger: The Power of Song.

Login to reply the answers

Ok. Today is May 30th, but the almighty internet says May 3rd. Regardless, Pete has a smashing birthday bash at New York's Madison Square Gardens. Joan Baez, Bruce Springsteen, Dave Matthews, and even Oscar the Grouch were in attendance along with several other fantastic singers.

http://www.billboard.com/bbcom/reviews-live/pete-s...

Among Pete's songwriting accomplishments, "Where Have All the Flowers Gone," "Turn, Turn, Turn," and "If I Had a Hammer"

Login to reply the answers
Still have questions? Get your answers by asking now.