Isn't odd that the "left" and the "right" have exactly the same view of the U.S. War on Drugs?
Mother Jones ran an article today that detailed the fact that U.S. War on Drugs is ineffective and primarily hurts minorities while being ineffective. The arguments made in this article were very similar to the argument Ron Paul was making against the U.S. War on Drugs at the Tavis Smiley Republican debates in 2008.
What do you think?? Is this a "bipartisan" change that both wings of the political spectrum could agree on??
Ron Paul Calls for End to Drug War
http://www.youtube.com/watch?v=o8S8N2OG7sU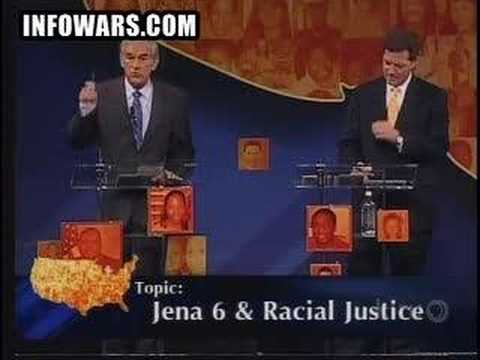 http://motherjones.com/politics/2010/03/new-jim-cr...
Ever since Barack Obama lifted his right hand and took his oath of office, pledging to serve the United States as its 44th president, ordinary people and their leaders around the globe have been celebrating our nation's "triumph over race." Obama's election has been touted as the final nail in the coffin of Jim Crow, the bookend placed on the history of racial caste in America.
Obama's mere presence in the Oval Office is offered as proof that "the land of the free" has finally made good on its promise of equality. There's an implicit yet undeniable message embedded in his appearance on the world stage: this is what freedom looks like; this is what democracy can do for you. If you are poor, marginalized, or relegated to an inferior caste, there is hope for you. Trust us. Trust our rules, laws, customs, and wars. You, too, can get to the promised land...................................There is, of course, a colorblind explanation for all this: crime rates. Our prison population has exploded from about 300,000 to more than 2 million in a few short decades, it is said, because of rampant crime. We're told that the reason so many black and brown men find themselves behind bars and ushered into a permanent, second-class status is because they happen to be the bad guys.
The uncomfortable truth, however, is that crime rates do not explain the sudden and dramatic mass incarceration of African Americans during the past 30 years. Crime rates have fluctuated over the last few decades—they are currently are at historical lows—but imprisonment rates have consistently soared. Quintupled, in fact. And the vast majority of that increase is due to the War on Drugs. Drug offenses alone account for about two-thirds of the increase in the federal inmate population, and more than half of the increase in the state prison population.
The War on Drugs is just a repeat of the mistake made with Prohibition. The impetus was the same (moralizing), the result was the same (organized crime, gang violence, brutal law enforcement tactics, burgeoning prison populations). The only difference is that there hasn't been the backlash there was against Prohibition.

Economically, making a drug illegal (or even taxing it heavily enough) makes it profitable to produce, smuggle and distribute it on the black market. The greater the enforcement efforts, the higher the price those few producers who can evade enforcement can demand. It's a giant subsidy for organized crime.

Prohibition was an abysmal failure, and history records it as such. Yet, we continue to persue the exact same policy, even though it continues to fail in the exact same disasterous way.

Login to reply the answers

There is no such thing as an inherently good person. There are only sinners who repented and were sincere and continue to be sincere with their repentance and their clear decision to stop sinning and stop being so wicked and actually seek holiness which is to seek God's character. Everything else will follow. The first step is to make a choice to empty yourself of your huge ego and admit that you are not good at all and can only be good through the power of the Holy Spirit. There is no ego in Heaven. Pride is honestly the mother of all sins and the main reason why many people are going to Hell. They refuse to acknowledge their mistake and refused to change themselves by prayer and fasting. Fast till your carnal mind is transformed to something more manageable and become more like God in His character. Over time, you will become a godly person, but never a good person. The only good person there ever was was Jesus Christ Himself. All others, even His earthly mother, Mary was a sinner just like the rest of us and she is not to be worshipped or prayed to as she was a sinner. No one other than Jesus Christ is to be prayed to. There is no intercessor for humans other than Jesus Christ the Son of the Living God.

Login to reply the answers

The War on Drugs must be halted immediately for the good of the country.

Login to reply the answers

Login to reply the answers

How do you think about the answers? You can sign in to vote the answer.

Well those of us who agree with Ron Paul are fiscally conservative and socially liberal, which includes this so-called war on drugs. For the most part, we're registered Libertarians, as a result.

Login to reply the answers

Just don't confuse your average Republican (for corporate welfare against social welfare) with your average Libertarian.

Libertarians tend to be socially liberal (stay out of my private life and I'll stay out of yours).... not to be confused with your average Republican.... who believes for example that government SHOULD be able to arrest you for smoking a dried plant (marijuana is bad but tobacco is okay) .... and SHOULD be able to force women to have babies.

Big differences.... Ron Paul is SOCIALLY a leftist.... and because of that I think your statement is wrong. Only social liberals want to end the war on drugs....

....your police officers, corrections officers, DEA, and other Republican-types ARE still against ending the "war on drugs" because ironically these "small-government" Republicans.... all cash their paychecks from a State or Federal government agency that relies on tax dollars.

(Just pointing out the hypocritical and self-serving nature of your average Republican police officer's political stance.... they want smaller government... so long as it isn't the budget of the department THEY work for being cut.)

Login to reply the answers

CONSERVATIVES are more for the war on drugs than Liberals. At least the liberals are trying to decriminalize it. Conservatives keep saying they are for more freedom and are hypocrites.

Login to reply the answers
Still have questions? Get your answers by asking now.