who was everyone who sang "we are the world"?
http://www.youtube.com/watch?v=XVYf-4A08Ew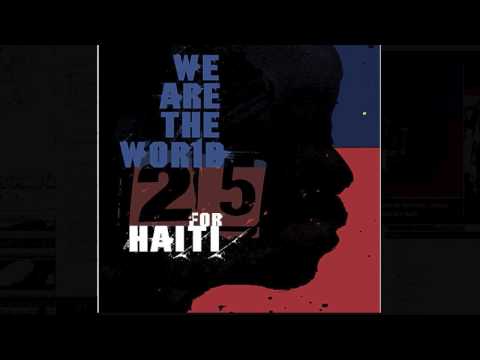 who is everyone who helped out with this song by singing?
thankkss!!
Conductors

Quincy Jones

Lionel Richie

Soloists (in order of appearance)[20]

Justin Bieber

Nicole Scherzinger

Jennifer Hudson

Jennifer Nettles

Josh Groban

Tony Bennett

Mary J. Blige

Michael Jackson (stock material only)

Janet Jackson

Barbra Streisand

Miley Cyrus

Enrique Iglesias

Jamie Foxx

Wyclef Jean

Adam Levine

Pink

BeBe Winans

Usher

Janet and Michael Jackson duetted with each other on the recording Celine Dion

Orianthi (on guitar)

Fergie

Nick Jonas

Toni Braxton

Mary Mary

Isaac Slade

Lil Wayne

Carlos Santana (on guitar)

Akon

T-Pain

LL Cool J (Rap)

Will.i.am (Rap)

Snoop Dogg (Rap)

Busta Rhymes (Rap)

Swizz Beatz (Rap)

Iyaz (Rap)

Kanye West

Chorus

Patti Austin

Philip Bailey

Fonzworth Bentley

Bizzy Bone

Ethan Bortnick

Jeff Bridges

Zac Brown

Brandy

Kristian Bush

Natalie Cole

Harry Connick Jr.

Nikka Costa

Kid Cudi

Faith Evans

Melanie Fiona

Sean Garrett

Tyrese Gibson

Anthony Hamilton

Keith Harris

Rick Hendrix

Keri Hilson

Julianne Hough

Nipsey Hussle

Il Trio

India.Arie

Randy Jackson

Taj Jackson

Taryll Jackson

TJ Jackson

Joe Jonas, along with his brothers Nick and Kevin, sang on "We Are the World"

Jordin Sparks sang as part of the chorus

Al Jardine

Jimmy Jean-Louis

Ralph Johnson

Joe Jonas

Kevin Jonas

Rashida Jones

Gladys Knight

Benji Madden

Harlow Madden

Joel Madden

Katharine McPhee

Jason Mraz

Mýa

Plain Pat

Freda Payne

A. R. Rahman

RedOne

Nicole Richie

Raphael Saadiq

Trey Songz

Musiq Soulchild

Jordin Sparks

Robin Thicke

Rob Thomas

Vince Vaughn

Verdine White

Ann Wilson

Brian Wilson

Nancy Wilson

Login to reply the answers

Pink, Lil Wayne, Eminem, AR Rahman, Kanye West, Jonas Brothers, LL Cool J, Robin Thicke, Celine Dion, Akon, Rob Thomas, Wyclef Jean, Jeff Bridges, Vince Vaughn, Barbra Streisand, Jordin Sparks, Good Charlotte's Madden brothers, Mary J. Bliege, Sugarland, Michael Jackson,Tony Bennett, Josh Groban, Snoop Dogg, Steve Saville, Jennifer Hudson, Britney Spears, Keri Hilson, Jamie Foxx, Tyrese, Katharine McPhee, Sean Garrett, Will.i.am, Brandy, Carlos Santana, Melanie Fiona, Enrique Iglesias, Toni Braxton, Cameron Bell, Jason Mraz, Miley Cyrus, Busta Rhymes, Nicole Scherzinger,Justin Bieber, Nicole Richie, Jay-Z, Usher, Julianne Hough, Raphael Saadiq, Zac Brown Band, India.Arie, Janet Jackson, Beyonce, Randy Jackson, Musiq Soulchild, Heart's Ann and Nancy Wilson, Fonzworth Bentley, Kid Cudi, Iyaz, Lady Gaga, Bizzy Bone, Nipsey Hussle, the Beach Boys' Brian Wilson and Al Jardine, Trey Songz, Taylor Swift, Selena Gomez, Sharbel N. Karam,Mya and Gladys Knight.

Login to reply the answers
Still have questions? Get your answers by asking now.