What do you think about Evan Lysacek winning Olympic gold for men's figure skating?
I KNOW I ALREADY ASKED THIS BUT PLEASE CHECK OUT THESE VIDEOS...http://www.youtube.com/watch?v=T-JMDrdw1u4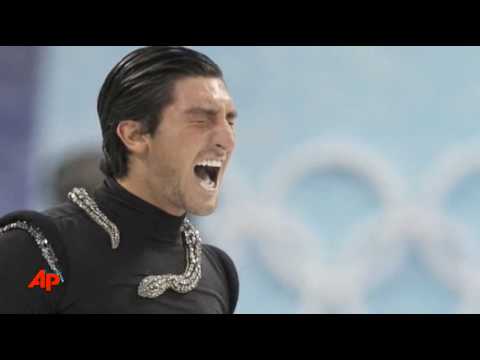 http://www.youtube.com/watch?v=AHjvG-nEEfo
(I also wrote this website below) I wrote like 100 comments supporting Evan. I know that Evan deserved it, so I cant stay up all night and argue. people like that who dont know what theyre talking about and make stupid comments are not worth my time.
People, including Evgeny Plushenko, think it was unfair that the russian won the silver. If you want...watch this video http://www.youtube.com/watch?v=AHjvG-nEE
…
heres my first comment on it and it took off from there
I agree with anyone who made positive comments towards Evan Lysacek. Plushenko got cocky and thought he was all it. But obviously not!!! Evan, I publically congratulate you for skating a clean program and winning gold unlike Plushenko. I know a quad is not all of what the judges are looking for. If you saw Plushenko's performance you'd realize his jumps were a little off. Evan skated everything cleanly, allowing higher GRADE OF EXECUTION points. Still interesting to watch though!
Bottom line...Evan deserved it cause he skated better. Johnny Weir was the one who got screwed over by the judges when he came in 6th. Why isnt that a controversy and something like Lysacek and Plushenko is? Thanks for the comments...I want to know your opinion
To be the proverbial Devil's Advocate:

The problem with this Olympic event is that it's completely subjective. Here's a threefold reason as to the problem of one-guy's-better-than-the-other scenario. Why:

• The event is judged for techniques required; easy enough = everyone does the same thing and is judged according to success or fail of said techniques.

• ...and for the ever elusive ''artistic content''. Artistic content is problematic because it can be oranges to one judge and apples to the next. We all know artsy fartsy does NOT exist in sports.

• The problem with the media that's covering this is one of ethnocentrism. Don't know that word? Look it up. Hint: it has everything to do with ego, "me", and my nation. Judges are ethnocentric folks too. Get past the formal blazers, skirts, and ties emblazened with I.O.C. crests and they too are victims of media pressure. The same can be stated about media coverage in Europe and Eastern Europe.

Now herein lies a huge problem, the judges deem the Quad as the pinnacle of men's figure skating and to do it cleanly as Plushenko did in both his Short and Final Program is to garner massive points.

The verbal vomit that ensued by American media and fans because Plushenko didn't think Lysacek deserved gold is a given <~ American fans and media will defend Lysacek to the death when it comes to ethnocentric, nationalistic pride.

The exact thing is being stated by Russian media and fans towards their own Evgeny Plushenko. Fair enough.

♣♣THE PROBLEM WITH THIS SPORT IS THEY SET UP RULES OF REQUIRED ELEMENTS: SUCH AS THE QUAD BEING THE HOLY GRAIL*

♣♣Holy Grail as a metaphor to the best technique to execute.

♣♣THEN THEY JUDGED THE FINALS IN LYSACEK'S FAVOR BECAUSE OF HIS ''ARTISTIC QUALITY'' or to phrase it another way = he was "cleaner" in his landing of Triple-jumps. Fair enough, BUT WHAT ABOUT EVAN'S CRITICS WHO THOUGHT HE WAS "TOO SLOW" IN ALL HIS JUMP ENTRIES.

See the point of this problematic sport? It demands fairness by fans but is judged entirely subjectively.

Last but not least, Plushenko owes nothing to Lysacek nor does he need to be a good sport and pretend to blow smoke up Evan's **** by saying Lysacek deserved gold. This is the Olympics based on how he knew the rules, he won gold in his mind.

FYI: Answerer does not think men's figure skating is technically a sport because of this massive-subjective-void that muddies up the judging process time and again without fail at EVERY Olympics.

Source(s): get real!

Login to reply the answers

I think them gold medaled the right champion. It takes more than a quad to make a champion. Evan was polite, he didn't bad mouth the competition. There's a lot of kids that look up to these guys, so attitude also plays a part in the champ. I'm very pleased with the winner. They made the right choose.

Login to reply the answers

I've answered this about a dozen times but I don't mind doing it again, Evan was amazing!

Deserved it 100%

Login to reply the answers

I thought Lysacek won it handily. Was that your question? Hard to separate diatribe from query sometimes.

Login to reply the answers

How do you think about the answers? You can sign in to vote the answer.

Evan was by FAR and away the best skater, congrats on his gold, he earned it.

Login to reply the answers
Still have questions? Get your answers by asking now.