I'm going to try out for a college team as a walk-on, I'm 6'4", 205 lbs. What position should I shoot for?
I played football in middle school, as a freshman, and a sophomore (partially). I got injured towards the end, and dislocated my knee. I was then transferred to a school that didn't have a football team. I have played wide receiver, linebacker, defensive end, and tight end but started mostly at wide receiver.
Stats
---------
4.59 40 yard dash
33" vertical
8'7" standing broad jump
4.75 20 yard shuttle
2 reps 225 lbs bench press
300 lbs squat
I'm leaning towards wide receiver, but also looking at defensive end. I never got to start at defensive end due to my injury then transfer, but I got to the quarterback pretty much every time on passing downs, and usually made tackles towards me despite going against a 6'2" 270 lbs tackle. If it makes any difference, I also do parkour which helps my balance, speed, and agility tremendously.
Also would it be legal to kong vault an offensive lineman?
Kong Vault: http://www.youtube.com/watch?v=1I4aGe-RhtU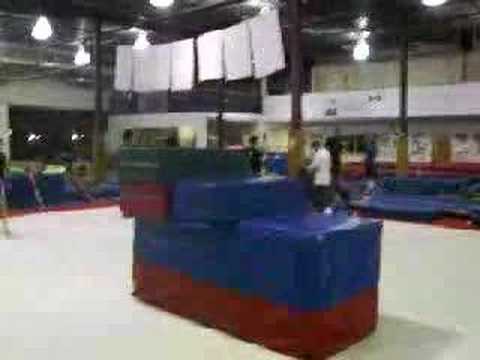 Thanks for your time!
Update:
I'm looking at local schools with football teams that are division 1, but not the best.
University of north texas is at the top.
TCU is a college I want to go to academically, but unsure of my football chances there.
Texas Tech is another team im looking at.
Texas a&m is a great school for my computer science major, but not sure of the chances i'd have their.
Update 2:
Here's a recent picture that is somewhat related and I thought was awesome. If its worth anything, I always took a coaches advice and played as hard as possible which is portrayed in this recent pick up game picture:
Update 3:
Laura.. actually I am 6'4" I would be happy to show you in real life.
Jamarco.. Not a total loser, but I wasn't that popular in High School. Football and weightlifting was my life back then.
If you can get a little faster, I would recommend linebacker. You seem to have a pretty good size for that. I think you're a bit small (weight) for a lineman, but if you think you can add a lot of muscle then you could try that. My best advice would be to go to the coaching staff and see what they need/where they think you should go.

A skills position might be tough just because of the time you had to take off, but of the ones you mentioned, tight end might be your best bet.

What school are you thinking?

Good luck in it all!!

Source(s): Watching a lot of football.

I wouldn't suggest diet pills. Many diet pills make you lose weight by acting as laxatives, so you don't absorb enough food nutrients. Also, most people who take them gain most or all of it back later. If you are really serious, cut out ALL junk food, drink only water, and stay away from processed foods. Eat more fruits and vegetables and less bread, dairy, and refined sugars. Keep a meal journal until your next check up because you may be overeating. Find what exercise (sit-ups, push-ups, crunches, etc.) is easiest for you and set a goal (around 50 a day) for you to do. I am also about 5 pounds overweight, but I've already lost 8 in the last month. My goal is to lose 15-20 more pounds in the next couple of months. Good luck! I'm with you in the struggle! Remember, you aren't defined by the scale!!!

You're a pathetic fυcking liar. The picture shows you're only 5'7", 150 lb. Fαg, you're embarrassing yourself. Why don't you really play sport instead of lying about it on here? Loser.

Tight End, you are a little slow to be a wide out. Gain about 30 pounds.

How do you think about the answers? You can sign in to vote the answer.

You're pretty much a loser socially in your school, aren't you?

Why don't you suck my dιck?
Still have questions? Get your answers by asking now.