why is obama against scott brown when?
obama doesn't know of scott browns record. don't you think the pres. should know about would be senators? shouldn't obama get the facts before campaigning against someone.
http://www.youtube.com/watch?v=yGVMdR3ayGE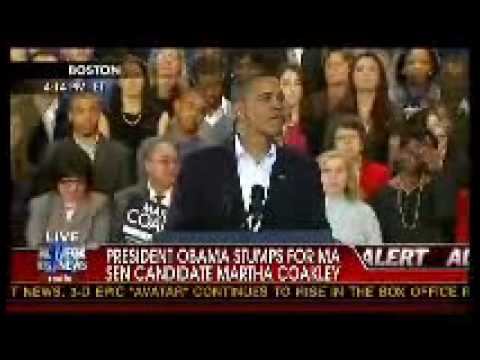 It is kind of Funny how every one said that Sara Palin was so under qualified to run for Vice President when we have a President who is just as under qualified..all our good leaders we vote out becuase we want to be "racially sensative," however people fail to realize it took all races of "Great," leaders to make America what is "was," because now we are far and away from that time we divide our leaders one is not qualified when the other may not be much better but because of who he or she is there better. For instance, Martha Cluck...(yea i know, i just don't care)...This women actually said if you have Religious Believes you should not work in the ER..are you kidding had Brown said that he would have been hung...

Login to reply the answers

WHEN Brown wins, he will be the 41st vote against Obama-care. He can shut down this horseshit. They are afraid of him.

They also know that his is their only chance. After the mid-term elections they will have fewer dems to buy off. They will have a problem shoving this crap down our throats.

Source(s): Obama is not my fault!

Login to reply the answers

The health care bill will define Obama's Presidency and thats the only reason he campaigned for Coakley. If Coakley loses this election it will reflect on Obama.

Login to reply the answers

Because if Brown wins, Obama will actually have to be bi-partisan, and that would mean he couldn't use the threat of "The Other" as a political strategy, as most politicians like to do.

Login to reply the answers

How do you think about the answers? You can sign in to vote the answer.

Because hes a republican and a threat to the seat and a threat to obamas health care bill!

Login to reply the answers

And lose the magic bullet proof majority in the senate?

Login to reply the answers

Elections are to be dictated by emotions not facts, silly boy! LOL

Login to reply the answers

wow yes of course Obama does not know Browns record , he only wants to protect his insane health care bill with whatever way he can

Login to reply the answers

The facts have never mattered to the far left loons... Why would they now?

Login to reply the answers

0bama is a retard, he already told Leno that he belongs in the special Olympics.

Login to reply the answers
Still have questions? Get your answers by asking now.