Liverpool Fans: Who's The Greater Manager, Shanks or Paisley?
Since we all into Shank's 50 year anniversary, it's nice to know his methods and legacy is being accorded the kind of tribute it truly deserves.
Which brings out the oft asked question: Who was better between him and Paisley? Of course a small portion might even put Dalgish or Joe Fagan ahead, but I think it's safe to say it's between the former and his immediate successor.
I didn't get to watch Shank's team, but saw at first hand, Paisley's marauding Liverpool. It's been pointed out that Paisley merely built on the foundations laid by Shankly, but I think only that's true to a certain extent.
In his 9 years, he won them something every season except for his 1st year in charge. Most times, it was a double and nearly the Treble in 1977.
He won 6 League titles (in 8 seasons a record matched only by Fergie), 3 European Cups (still the record), 3 League Cups (consecutive, Liverpool kept the trophy) and a UEFA Cup.
He also build a great side in his own fashion, he replaced Keegan with Dalgish, and bought players like Rush, Whelan and Souness, to mention but a few.
It's never easy to take over from someone so successful and improve on it. Jimmy Armfield couldn't do it at Leeds (Revie), neither could any of these:
Terry Neill at Arsenal (Berti Mee), Colin Harvey at Everton (Kendall), Frank O'Farrell at United (Busby), Bruce Rioch at Arsenal (Graham) or even Don Revie as Sir Alf's replacement for England and of course, Grant and Scolari, after the Special One left Chelsea.
To top all this up, his Liverpool side played with panache and style and was Europe's top rated side in 5 of his last 7 seasons, where they were thrice European Champions. (Forest 79 and Hamburg 83 the exceptions).
In any League or Cup ties over 2 legs, Liverpool was unstoppable for much of his reign. His side could only be eliminated by a singular knock-out contest, like the FA Cup. Even then it took an huge effort, United in a replay in 1979's Semis, while Arsenal took 3 replays in the 1980 Semi-Final!.
So while Shank's built up the foundation and made Liverpool strong, I think Paisley did an even better job and made them the best side in the country, for a number of years. He inherited Shankly's side, but also molded one in his own image. Shankly's team was tough to beat and played well, but Paisley's side was unstoppable at times and played with a greater style.
He was also more successful, only Clough could match him in the manner he fashioned his side.
Ferguson is probably the greater manager given his record, but Paisley achieved his success in a shorter period. So I think he's even greater than the Great Shankly.
Here's a video of them beating Spurs 7-0, en route to winning the title in 1978-79
http://www.youtube.com/watch?v=sTLpYr76mZY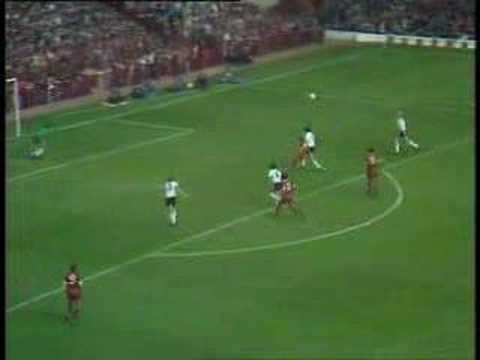 &feature=PlayList&p=B60E2EFD42D44354&index=18
Update:
Answer this other question if you will.
Which is why I think Shanks sometimes gets a higher billing than Paisley when it comes to these things. Let's be honest, Shanks will always be remembered as the man who built the Anfield empire, Bob the man who consolidated it. Shanks' starting point as manager at Anfield was so much lower than Bob's was. He took us from second division deadbeats to the top club in England and there are plenty of fans around today who still remember the 'dark days' of the 1950s.

Shankly stirred something deep in the souls of Liverpool fans with his fiery oratory and blinding committment that stays in the collective memory to this day.

But celebrating Shanks' triumph in dragging the club up by it's bootlaces is not to belittle the role of the backroom boys who made it possible. In the same way that Paisley couldn't possibly have done what Shanks did I think it's fair to say that Shanks wouldn't have succeeded without Bob alongside him.

Before he came to Anfield Shanks had not been a huge success as a football manager but once he arrived at Anfield, his legend began to take shape. Shankly's blossoming was due in no small part to the influences of the backroom staff he inherited and as a double act Shankly and Paisley were made for each other.

The distinguished journalist John Keith summed it up perfectly when he said 'Shankly lit the fire, Paisley fuelled it.'

We make no apologies for talking about Shanks here on Bob's web site, as you really cannot talk about one without mentioning the other. The two men, if not exactly hewn from the same rock, were fashioned from the same building blocks of sweat and struggle. Both men came from small mining communities and worked at the pit head, helping to ferry coal laden trucks from the mines to the distribution wagons. Both men loved football and used it as their escape route to a better life. Even as players, the two men played in similar positions, in a similar style, and extraordinarily, were both early exponents of the long throw-in.

They both had different strengths and weaknesses, differences that dovetailed magnificently. For example, Paisley's ability to spot and diagnose injuries was almost supernatural. It was said he could tell what a player was suffering from by merely watching him stroll across a room in a suit. Shankly on the other hand had no time whatsoever for anyone who was carrying a knock. The net result of Paisley's diagnostic medical skills and Shankly's cold indifference meant that injured players at Anfield were a rarity, and in the days of small tightnit squads that was a vital asset for a club to have. The role of the lesser lights in the background were also crucial to the success both men enjoyed.

There is a lot of evidence to suggest that Paisley was the keener tactician, Shankly the chief motivator. With Fagan, Moran and Bennett supporting them, they were unstoppable. That Paisley went on to even greater things as manager (without Shanks' influence) is testament to the ability and talent he had, but the unlocking of that management potential was only realised because Shankly had been there before him and laid the groundwork.

4 intelligent Managers who know and love the game inside out. Shankly built it Paisley dominated it Fagan and Dalgaleish just continued where Paisley left of. So i think this order is Justified.

This is always a hard question to answer, but for me it's Paisley. Shanks made the club into what it is, but Paisley acheived so much in so little time, that it's just too hard not to give it to him. How many managers can you mention that have been at a club for 9 years, and only failed to win a trophy once? For me Paisley is the best manager ever to grace the Prem.

That's impossible to answer mate. Shanks gave the world Liverpool FC, the tradition and winning mentality. Paisley took that and won loads of trophies. They both played their part but in the end Shanks will always be the shining star at Anfield.

How do you think about the answers? You can sign in to vote the answer.

Shankly for me he started a whole era of Liverpool dominance. Don't forget Liverpool where in the bottom half of the old Second Division when he took over.

thats like trying to choose which of your kids you love more. both complete heroes to me. maybe paisley more because he was manager when in started supporting them and i absolutely loved him (plus i come from the same area as him) but shankly started it all so maybe without him paisley might not have had the chance to do what he did.

Source(s): supporter since i was 5. 31 years.

Liverpool shat on shankley from a great height (banning him from melwood and even the directors box at anfield).He was welcome at Everton,s training ground to coach the youngsters.

Who do you think paid for the shankley statue at anfield...it certanley wasent LFC...it was the club sponsors (carlsberg). the directors at LFC should hang their heads in shame(not the fans).

I think shankley died a very sad man,such a shame....

very tough indeed...could remain one of the great mysteries of the world and I wouldn't mind.
Still have questions? Get your answers by asking now.