Rush Limbaugh supporters, what do you think about his statement about Michael J. Fox?
A long time ago, I know.
After Michael J. Fox did a commercial supporting stem cell research (as it could help cure Parkinson's Disease), Rush claimed that Michael J. Fox "either didn't take his medicine (for Parkinson's Disease) or he's acting." He also imitated Fox's twitching movements from Parkinson's.
I am curious to know what his supporters think about this. Old issue, I know.
Update:
Here's a link for those who requested it. Not sure if you trust it, as its Youtube, but here it is:
http://www.youtube.com/watch?v=fFFmRdJwWFQ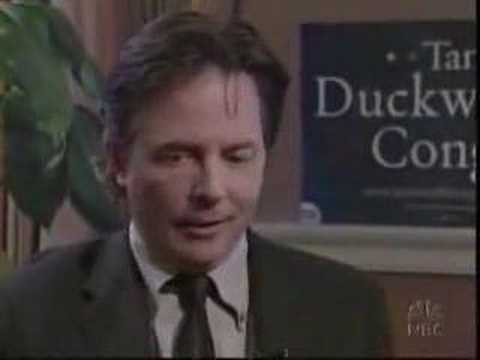 He went off his meds to show exactly how Parkinson affects a person and eventually the medication will do no good.* Rush was totally out of line for making fun of anyone with this disease.

Login to reply the answers

I believe Rush said what he said about Micheal J. Fox because Rush said he had seen Michael on some T.V show and doing some interviews on T.V around the same time he made the commercial and Michael wasn't twitching all around as he was when he did the commercial advocating for stem cell research. I'm not saying what Rush said was the right thing to say ( I wouldn't have said it) but at the same time I don't think it's too far fetched to believe that people with a cause and an agenda might go out of their way and exaggerate and sensationalize whatever it is that might be wrong with them in order to cause more people to take notice and listen to what they have to say so they will take action. Is that a bad thing?

Login to reply the answers

whether that's real that Michael J. Fox went off his meds for the advert, it does not decrease the severity of his sickness or the magnitude of his message. My father suffers from Parkinson's sickness, and in spite of medicine he has difficulty walking, talking, and appearing different projects. What Michael J. Fox presented replaced into no longer sensationalized in any way; it replaced into the awful fact of his condition, a condition that has effects on a large form of individuals international. Stem cellular examine is the main promising wish for an useful scientific care, and egocentric, self-righteous, pompous bastards like Rush Limbaugh have no good to criticize except they have suffered from it themselves and understand the misery of residing with the sickness on a daily basis. I truly wish Rush gets a extreme case and has to consume his words.

Login to reply the answers

That's not all that he has said about people with real medical problems. I remember that. You should see all those racist quotes of his about black Americans. The ****** has a radio license to be racist. And he gets away with it every day. Now Beck is following in his footsteps. He saw how much money Limbaugh was making on it, and decided to get some of that action for himself. Nothing but two devils.

Login to reply the answers

How do you think about the answers? You can sign in to vote the answer.

Most of the Rush hate comes from the fact that hes a GOP hack that being said he still has a original take on news stories and he was a trendsetter because he said what the mainstream media is too afraid to say like about Michael J Fox

that's why i still like Rush

Login to reply the answers

Mr. Limbaugh was right, when people take their medication for Parkinson's they don't have tremors.

Michael Fox clearly was either off his meds or acting, one or the other, which is fine if he wanted to make a point, but he should have admitted he was off his meds or acting.

You can find plenty of videos of Mr. Fox being interviewed after that ad and he doesn't have tremors.

Login to reply the answers

Fox admitted to not taking his medicine, so he could ham it up and get more sympathy/money for his disease.

So what is your point? Rush was 100% correct.

But I am sure you enjoyed President Obama insulting special olympic athletes on national tv.

Login to reply the answers

Right ! It's an old issue, let it rest. Are you running out of cheap shots to throw at conservatives that you need to rehash old, worn out, indescretions?

What makes you think Limbaugh has supporters, he's not running for office. Either you listen to him or you don't. Obviously, he must be making a lot of sense to a lot of people, considering the big bucks the EIB network pays this guy.

Login to reply the answers

I think it was awful of him to do that. Completely childish. Part of the reason I quit listening to the big mouth.

Login to reply the answers

I think that only ghouls would prey on the bodies of murdered children to harvest spare parts for the living.

Clearly Fox hadn't taken his medication prior to his appearance before the House. Ask yourself if it was intentional or not.

Login to reply the answers
Still have questions? Get your answers by asking now.