What music do you associate with each of your contacts?
And I do not just mean: "what music do you know they like?!"
Update:
Ok, I do not know all of the people who answered... so I cant "return the favour" and pick pieces for you.
But for the people I do know:
Lexi - http://www.youtube.com/watch?v=G3jlnK8ROBI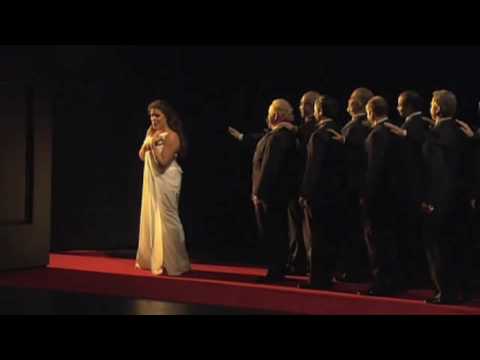 Endless Pleasure Endless Love, from Handels Semele.... I dont know why!
Alberich - You are "The Dutchman" from Wagners opera, der Fliegende Hollander. A tragic hero.... When I saw this a few days ago, during the first aria I thought "This is sooo Alberich!"
Stefan K. - Sonata II by Dario Castello, with the melody played by recorder... Because it is beautiful and calm, but still energetic and wonderfully baroque.
http://www.youtube.com/watch?v=S_wM-085RW8
(not a very good recording Im afraid..)
Jack Herring - Se Vuol Ballare, from le nozze di Figaro. I dont really know why...
http://www.youtube.com/watch?v=3MdXqtQ1vJQ

I.Jones - You are stravinskys Italian suite. Powerful-ish! http://www.youtube.com/watch?v=uW12C0c9W-8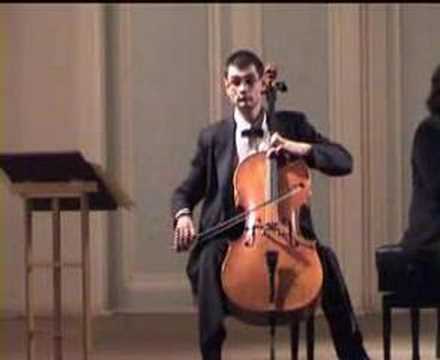 Update 2:
Hafwen - what else but my current favourite piece? And I can totally imagine the two of us dancing away and hitting the drums! :P
http://www.youtube.com/watch?v=cMQDy5lWH7o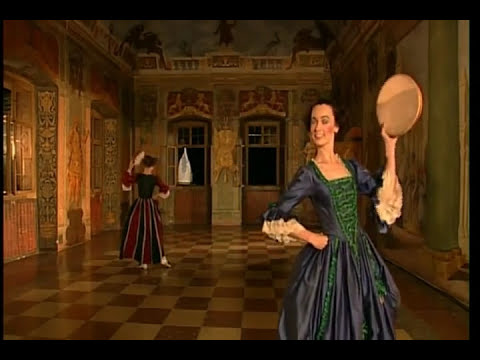 Doc Watson - You are Beethovens 2nd piano sonata (The tempest).... Calm, sometimes raging, but always beautiful!
http://www.youtube.com/watch?v=aoAM-4qTz8I
Hello Miss LimLam. Hm.I am surprised about the answerer's here.With the exception of Alberich and you there are no more contacts of mine who answered this.But equal,I'll give you some answers to your nice question(I like your question!).

So well I want to start with my dearest hafwen.I think that's obvious.I know she likes baroque as much as I.She likes the music of Vivaldi,Händel,Monteverdi,Lully and her most favored musician is my countryman Klaus Thunemann though she also plays the bassoon.I dedicate her a baroque and a non baroque piece because she's as weird to baroque music as I am.The baroque one is:Telemann's

Don Quixote Suite and the non baroque is Richard Strauss's tone poem Till Eulenspiegel's lustige Streiche.

Next one is my dear Alberich whose appreciation of Richard Wagner's music is well known by all of us I think.

BTW:@Alberich:You awakened my interest to listen at least to some of Wagner's very less instrumental pieces.I would wish he had composed a tad bit more instrumental pieces,at least some symphonies or sonatas.Thank you my friend.So I would love to dedicate to Alberich "The Wagner's Ring of the Nibelung". - I associate Bazzini's dance of the goblin's with you dear Alberich.Why?Because as the virtuosity of this piece,you are an virtuoso on answering and questioning here on the Classical Music Forum.

Well Miss LimLam I know that you love singing and the opera very much especially those opera's of Antonio Vivaldi.If I am right ,your favored musician is Enrico Onofri(violin) from Il Giardino Armonico.So I dedicate 2 pieces to you.The d-minor Concerto per il maestro Pisendel by Antonio Vivaldi and why your'e playing the lute,the lute concerto in D major from Antonio Vivaldi.

Dear Mephistopheles.I know that you tremendously appreciate the music of Ludwig van Beethoven,Anton Bruckner,Gustav Mahler and Jean Sibelius.Though it is hard to associate 1 piece of those great composers(they all composed so many great works) I thought I'll take a piece concerning your nickname here on Y/A.So I vote for the "Faust Overture"by Richard Wagner.

I don't see Switch here very often but he's a good friend to me and so I would never forget to mention him.I know dear Switch that you love baroque music as much as I,or hafwen or Miss LimLam.Your favorite composer is Antonio Vivaldi and nearly all of his music I think.If I am right you also appreciate the music of Loccatelli. - I associate the "The Sorcerer's Apprentice" tone poem by Paul Dukas with you

(You know -s-witch,ha ha ha and also as charming and funny music as you are dear switch).

My dearest Tucomena is a great fan of the music of my countryman Johann Sebastian Bach and plays his music on the piano.There is nothing more obvious than to chose a piece by Bach for associating.Tucomena you are appearing to me like a good ghost who always wants to stay in the background.Firstly I wanted to mention the Goldberg Variations,but as it maybe is to cliche,I thought of the "French

Suite" No.5 in G major BWV816 a brilliant work by Bach.

Our very much valued Del has so many musical interests,that it seemed to me impossible to chose a work although he likes

some prog rock,beneath classical music.But as he is a manager in music buisiness,I thought he maybe would like an dedication to a interesting CD recording of our german "Freiburger Barockorchester".It's a quite interesting CD.It's called "About Baroque" and contains new compositions for the Freiburger Barockorchester by:Michel van der Aa,Juliane Klein,Rebecca Saunders,Benjamin Schweitzer and NadirVassena.The interesting on this CD is the confrontation of contemporary music with historical playing on historical instruments.As interesting and surprising as this CD is,are the comments and recommendations of Del-icio.

With Suhwahaksaeng it is nearly as difficult as with Del,so I would associate some works of the german composer Karl Amadeus Hartmann to him.I think the interesting are:The concerto funebre,His Symphony No.1,The tone poem

"Miserae" per grande orchestra and his piano concerto from 1953.These works are interesting for analysing for a longer time,I think.

Papagena is seldom here but as the name implies she loves Mozarts The Magic Flute.Therefore I associate the famous duett aria:Pa Pa Pa Pa,Pa Pa Pa Pa ,and so on(I think you'll know this aria) to her.

One older and one new contact come to my mind for associating.

Erunno has not been here for a longer period but I know that his favorite composer is Edvard Grieg.So I dedicate him the piece......No....not Peer Gynt........! It's the suite From Holberg's Time.

One new contact is Joshua.If I'm alright he loves the music of Wolfgang Amadeus Mozart,especially the Jupiter Symphony.

So I decide in this case for the Jupiter Symphony.

I have to confess that I can not associate ALL of my contacts.It's because,some of them are very new and I don't now them that good to make an association(Jack Hering/I am sorry)and some older contacts have left this forum some time ago and haven't been seen for a while.So I beg the pardon of all those being not mentioned for forgiveness.It does not implicate any ignorance towards them by me.Definately not!!!

Uff!Such a long answer.Thanks for the interesting and nice question dear Miss LimLam.I enjoyed it pretty much.

My best regards to all of you here from today "Raining cats and dogs" Heidelberg/Germany.I love our weather and feel pitty for my plagued contacts,especially down under.Wishing them refreshing heavy rainfalls.Namaste.

Stefan K.feat.Dr.Nirokay.

Login to reply the answers

Lexi - http://www.youtube.com/watch?v=G3jlnK8RO

… Endless Pleasure Endless Love, from Handels Semele.... I dont know why!

Login to reply the answers

I'm going to have to get back to this one.

I'll give you a few for now.

Albrich ... Widor Symphony 5 (surprisingly NOT Wagner)

Tula ... Seems like a tango girl to me, but not Por Una Cabeza... I'll have to find the right one.

Songbird ... "Mia Marissa" (a piece we wrote together)

Anastasia (Anya) ... some "long flowing gown" kind of a waltz or romantic piece, maybe by Schumann. http://www.youtube.com/watch?v=sWirCaSpEAs

Jack Herring ... Greig PC No. 1 http://www.youtube.com/watch?v=NF0WaXEf0xM

... and my "Handel on you" is http://www.youtube.com/watch?v=-TGKJ9MgCOQ

Login to reply the answers

I only have three contacts who reply as regulars in YA Classical (and one of these I lost two weeks ago when my computer crashed weirdly after adding her as a contact). Anyway, it's not that I'm anti-social. It's just that I also spend a lot of time in other categories and, like now, when involved in a creative project I don't spend much time in YA at all. And I have other contacts who are musicians, like Kit Kat and Phae, who don't spend much time in YA Classical. And there are several in YA Classical whom I've done the e-mail thing with a bunch of times but never got aroung to doing the contact thing. My apologies to all .... still ...

As to the three contacts I do have (or think I still have) who are regulars in YA Classical, most of you guys already know the musical preferences of Alberich, Hafwen and Miss. Lim Lam.

So, for fun lets imagine Hafwen and Miss Lim Lam sharing the limelight at the renowned Sidney Opera House (or the slightly less renowned Alice Springs Opera House And Roadside Bar And Grill) with MS. LL on stage, Ms. Hafwen in the pit:

http://www.youtube.com/watch?v=MWqup5t1FHU

And during the encore we'll bring Ms. Hafwen up on stage to share in the duet. I would take the first boat to Sindey and pay to see that performance!

As to which character in opera either our Ms. LimLam or Ms. Hafwen reminds me of, the problem is there just haven't been any roles written about multi-talented, multi-faceted neo-Renaissance lassies. So, to simply pay tribute to these two, how about a slightly different approuch?:

For K - : To my favorite lassie writer, a film about a lassie writer:

http://www.youtube.com/watch?v=j5hbKxzHW2U

For J - : For you, another neo-Renaissance lassie a clip about one of my early heros, a singer, songwriter, poet and fellow painter:

http://www.youtube.com/watch?v=7agB7jriyUU

As to Alberich, I'm not going to post some video of a Wagner performance I'm pretty sure you've already seen. So how about this peppy little tune, my friend?:

http://www.youtube.com/watch?v=SLuW-GBaJ8k

Actually, the portrait kind of reminds me of Alberich. I think an incarnation is quite possible. But for something a little more unusual? How about this lessor known German composer?

http://www.youtube.com/watch?v=8bOoetsdalQ

&feature=related

or this little ditty?

http://www.youtube.com/watch?v=R2sFq6wSWW4

Maybe ol' Johann never became as popular as Richard, but ol' Wagner never had a big ol' SUV named after him, did he? Bet you didn't know where the Hummer got it's name, did you?

EDIT: Alberich, it's just a joke, a feeble play on words, a not very punny pun.

Login to reply the answers

How do you think about the answers? You can sign in to vote the answer.

It seems we did this a few months ago, however it is all in good fun. I apologize to any of my contacts not mentioned and I apologize to all of my contacts that I do mention.

petr b very respected. Deserves a respected piece. Scriabin Fantasy Sonata.

Mina, young but wise Bach WTC Bkl No. 2 Prelude and Fugue

Hafwen likes to laugh Chopin Minute Waltz transcribed for Bassoon

Tucomena a sweetheart Brahms Intermezzo in A major

Song Bird our resident entrepreneur Ther Barber of Seville

Nemesis most revered Saint Saens Piano Concerto g minor

glinzek the invisible man Brahms Symphony No. 4

Rachel_not_idiot, an original Ravel Piano Concerto in G 2nd movement

i.jones big captain Nemo fan- Bach Toccatta & Fugue

Anya- a very tender person- Chopin piano concerto no. 2 2nd movement

Switch-young and full of energy Bach Chromatic Fantasy & Fugue

and finally

MissLimLam also young but full of hope, My favorite opera La Boheme

Login to reply the answers

Here goes:

Alexandra: Violetta in La Traviata, she better quite smoking.

Tiki: Donezitti's Lucia Di Lammermoor, she tends to go crazy ocasionally.

Antoini: The Duke from Rigaletto, He knows that he is God's gift to women.

Fishmeister: Lohengrin, rides on a golden swan instead of a car.

Emily and her Mother love the Bears: Tosca, they both may jump over the rampart if the Chicago Bears Football team lose another game.

Mr. Jim: Mozart, both are childhood prodigidies and Free Masons.

Lidybiff: Beethoven's Fidelio, noble, faithful and ready to put it all on the line.

and the best for last: you

Miss LimLam: Richard Strauss's Salome, intelligent, beautiful, and waiting to see you drop the seventh Vail.

Login to reply the answers

Fun question, MissLimLam - and a fine way to try and forget this disgusting heatwave - well, for a few minutes, anyway!

Okay *big breath* here goes:

You - Handel: Zadok the Priest. Larger than life, proud, multi-layered, with immense power and potential, almost angsty at times - plus a wonderful omnipresent sensitivity.

http://www.youtube.com/watch?v=QCHUCMiJ_Ew

Alberich - Dufay: Missa L'Homme Arme ("The Armed Man.") A bit of a toughie on the outside, exquisitely sensitive on the interior...

http://www.youtube.com/watch?v=2DBtiTVaJZ0

Tucomena - Lully: Les Folies d'Espagna - where on earth do you get your energy from? You'd dance till you dropped - even on that delicate ankle of yours! So beautifully straightforward, but great complexities lurk beneath that calm exterior...

http://www.youtube.com/watch?v=1wssVaUj_Sg

Stefan - Marcello: Oboe concerto in d minor. Dark, rich, full of secrets and strange lights. Gooey and chocolatey, inside and out...

http://www.youtube.com/watch?v=x5AHHKxCK64

Jack Herring - Jacopa da Bologna: a treat from the Italian Ars Nova (14th century) - a song about the gentle creatures of the animal world. From one passionate animal lover to another.

http://www.nme.com/awards/video/id/Q-75q6AMf3E/sea...

Doc Watson - Doc: Hair + Indefatigable Imagination = Lully's sky-high wig = "Dream Dance," from "Atys." Gentle, joyous, perhaps bordering on melancholy...

http://www.youtube.com/watch?v=KeluEpGD0DU

Mephisto - Bach: Brandenburg Concerto #6 - for me, the most mysterious of the six BCs - powerfully profound, yet playful at the same time.

http://www.youtube.com/watch?v=KFrwDNzdTnE

&feature=related

Nemesis - WF Bach: Concerto in Eb for 2 harpsichords - powerful, intellectual, a bit scary at first - but once the ice is broken, the witty charm bursts forth!

http://www.youtube.com/watch?v=uLihwmYSdI4

Anya - Biber: "Anunciation" (Rosary Sonata #1.) Dark, deep, intense, gorgeous - quietly confident. The epitome of purity.

http://www.youtube.com/watch?v=vrpCEiug8Ks

petr - Bach: Passacaglia in c minor - quite scary at first, full-on Gothic intensity - but a quirky humour and joie de vivre beneath the darkness...:o)

http://www.youtube.com/watch?v=jM1SLmASyhQ

Enjoy your treats, everyone!

Hafwen x

~~~~~

I'll see if I'm allowed to add some more links as an "addendum" - wish me luck!

i. jones - Handel: "O Ruddier than the Cherry" - Polyphemus' aria from "Acis & Galatea" - crazy, fun roller-coaster ride, chock-a-block with surprises. Can be acerbic like a (slightly under-ripe) cherry - but one taste and you're hooked! Pucker up, Mr. Jones...

http://www.youtube.com/watch?v=9wo-EqJC3i0

Songbird/Jenn - to our amazingly creative resident librettist and courageous businesswoman - a Rhapsodic gift from George Gershwin:

http://www.youtube.com/watch?v=8nUyA4tfpyI

&feature=related

del - Bach: Kommt, ihr Tochter, helft mir klagen: St. Matthew Passion. Magisterial mind-blowing intellect...accessible only to the initiated.

http://www.youtube.com/watch?v=PgurNJLivG0

Login to reply the answers

Login to reply the answers

Login to reply the answers

Ooh great question!

You: Anything with a lovely bass line. Particularly "Habanera" from Carmen. I think its very you. Sophisticated, mature, passionate.

Joop: Flutey music, particularly Papageno's aria. It's kinda random in places, somewhat erratic but very light and pretty. (It's also pretty high. Teehee).

Joey: Toreador's song. 'Nuff said.

Jessy and FRATH: Pa-Pa-Pa. Because its crazy and they loooove each other.

Login to reply the answers
Still have questions? Get your answers by asking now.