Tokio Hotel Family: Holy...?
I was just looking up remixes & such on youtube & found this...
http://www.youtube.com/watch?v=W4m3ISm0Y6w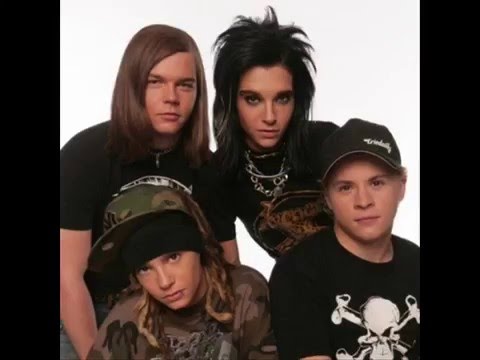 am i the only one who thinks they killed the song....Mein Gott if Bill could get that i high he would break every window in a 12 mile Radius
Poll:
- Date Gustav or Hug Bill?
- Tom teach you guitar or jump on a trampoline with Georg for 2 hours?
- Raid Bill's closet or Georg's hair products?
- Tokio Hotel or ......Tokio Hotel? *gasp*
- Did you secretly like the version of Monsoon that i just showed you? (be honest)
Update:
Oh extra question!
- Do you miss the surveys & polls we used to do? *sniffle* i do :[
Update 3:
›αlíєn tσ lσvє♡‹ - omg! i didn't recognise you! You changed your name & pic & everything lol
Don't worry, i have no life either.
OH MEIN GOTT!! BILL SO\UNDS LIKE HE IS BEING TORTURED!!! AND IS IN TEARS!!! AND A BUDGIE!!!

That isn't a remix. That's making it unpleasantly high pitched.

AHH!! I MISS THESE SURVEYS!!!

-Hug Bill and hang on to him like a limpet.

-Tom Teach me his guitar because where ever Tom is, Bill won't be far Ü

-Raid Bills closet, and then he'll be like 'what are you doing going through my stuff! Wanna hang out? Wanna get married o_O' and then after briefly questioning his mental state I'd be like 'mmmmkay!' and we would live happily ever after >:D

- NEITHER!!! I have a NEW favorite band *dun dun duuuuuun* Their name is Black Questionmark and they kick TH's A$$E$! O__O

-No, he sounded like someone had kicked him in the stomach and he was screaming, the music in the background sounded like a drill.

OMJ you read my MIND o_O YES! I miss them, bring them back!!!

LOL I love stupid people, that comment made my day.

Is Alien to love Cinema Bizzare? I haven't looked yet, I'm guessing because they wanted to change their picture and name?

HIGH FIVE- NO LIFE!!!

I laughed SO hard at that picture! xDDDDDDDD

- Hug Bill. I love my Gusti, but I love Bill quite a bit more. It'd be an awkward situation to be in :/

- Tom teach me guitar. Why? That requires way more than two hours. The more time spent with a band member, the better ;D (Though, it was a tough choice. xD)

- Raid Bill's closet. I bet I couldn't fit into anything of his because he's so thin and tall, which I'm neither, but at least I'd have something :)

- Oh gosh...why make me choose?! That's so cruel! ...uh, Tokio Hotel. NO, wait...Tokio Hotel... Can they just tie? xD

- No. It was like listening to nails against a chalkboard. I only lasted 5 seconds into the song O_o

- A bit. Mostly I just answered them in my head, but I still miss them.

lol that song OMG version I got half way through it until I started getting a headache It was strange, lol someone said on youtube comment he got kicked in the balls a lot XD so mean, But for the poll.

1. Date Gustav =)

2. Tom Teach me Guitar I seriously need to learn lol

3..Raids Bills Closet if you can get buy the million of leather jackets.

4. Tokio Hotel.

5. Yes until i started to give me a headache lol.

Gah! That was one painful experience. I gotta say. Then again, if we're being honest here, if I could get my voice to that pitch, I would would use it for several reasons I could probably list off the top of my head ...

Poll:

- Hug Bill

- I would probably have to keep leaving to throw up out of nervousness if Tom was teaching me guitar, so the trampoline sounds like a less stressful time ... but then again, Ich LEIBE Tom! teha ... so I'd go with the guitar ; )

- Bill's closet. Though maybe I'd take some of George's stuff when he wasn't looking .. eh nah, I'd feel bad ...

- Tokio Hotel *gasp* haha there is a difference I see it =p

- Well, I wouldn't download it, but I did listen to the whole thing ... Idk what that would mean for me though ...

(I use too many "..." eh?)

How do you think about the answers? You can sign in to vote the answer.

O.O uh...........wow.....I think that ruined the song for me...wait a minute!

*gets ipod and listens to monsoon*

Nope still kick a$$ haha...Yeah...That killed the song a little bit haha

poll:

Date Gustav! He's like a teddy bear lol

I know how to play the guitar....but hehe maybe I still need lessons XD

Bill's Closet!!!!!!!! OMG! If I had five minutes in there I would have my wardrobe set for life!

Tokio Hotel????

I thought it was funny haha but it kinda made my ears hurt haha

Oh mein gott... that was torture..and I only listened to it for 20 seconds. Jeeeezz, was someone high when they made that remix or what :S

Polls:

I would date Gustav

Tom teach me guitar...even though I can already play the guitar quite well :P

Raid Bill's closet

Hmmm I'd have to go with...TOKIO HOTEL ;)

Did I secretly like that version?..Umm HELL no.

x

POLL:

Hug Bill <3

Tom teach me guitar, only I wouldn't learn cause I'd just be staring at him....

Bill' closet! If only his clothes would fit me!!

SO hard to choose!!! I think I'll go with Tokio Hotel = D

I hated it, seriously, munchkins trying to make a rock song into hip-hop or whatever that was....

He looks more like his twin LMAO!!! Honestly, people are more ignorant as time progresses XD

Yea.....that totally killed the song......bill sounds like a werid chipmunk in it....lol

Poll:

hug bill

have tom teach me the guitar

definitely raid bills closet.....bills clothes won't fit me though :(

Tokio hotel !

NO i didn't .....i like the original Monsoon a whole lot better

Dude...that song makes my ears want to bleed.

I lasted 30 seconds...then it went off.

Ok, now I'm listening to REAL Monsoon ;]

Poll :

That's tough...Date Gustav

Tom teach me guitar!

Raid Bill's closet, could I steal a few things...?

Tokio Hotel :D

No I did not :P

I like this remix the most

http://www.youtube.com/watch?v=Yc_pLMsqMgY

RUINED OMG RUINED

Poll;

Hug BILLY BEAR

Tom teach me guitar

Raids bill closet (I wonder what his pyjamas are like)(jumps on a plane to track down tokio hotel)

Tokio HOTEL!!!!

It was SchiBe

I really do miss the polls WWWWWAAAAHHHHH!
Still have questions? Get your answers by asking now.