Do you think Jason Newsted really didnt have a chance to get the respect he deserved while in Metallica?
Here's what I mean. He was hired to replace Cliff Burton after Cliff's tragic death. Metallica fans were not ready to let go of Cliff and I don't think the band was ready either. The second he was hired all the comparisons started to fly between Cliff and Jason. Now that Jason is no longer in Metallica and has since been replaced by Robert Trujillo, you really don't hear any more comparisons. I've heard very few comparisons regarding Trujillo vs Burton. A lot less than Burton Vs Newsted.
Also, is Jason still in Ozzy's band. I never thought that even transpired until I saw these videos so whats the story there?
http://www.youtube.com/watch?v=VfxO3kxrL8g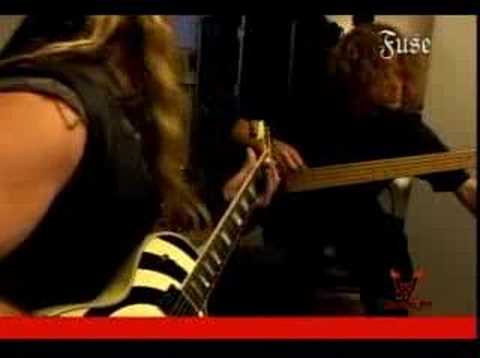 &feature=related
http://www.youtube.com/watch?v=vNJ604FeQbE
Hey bro!

You know Rik? and Perhaps as I am getting older I might be becoming

more bitter about certain things. However, when it comes to Metallica I dont like to think of them as much as possible anymore. AT ALL! I am a huge fan of Thrash Metal I use the genre in my own music but its true what they say even things that you once loved and GET OLD. You have to understand man and I really dont give a sh*t now anymore but I have heard Metallica get praised OVER AND OVER for what I consider average thrash metal the last 20 plus years. In my opinion there are way better thrash bands around the time Metallica started that have NEVER got the respect and recognition they deserved.

So honestly I am like WAY TIRED of hearing about Metallica. I still appreciate pre-black album Metallica but I probably wont EVER put in another CD for the rest of my life. For someone that's not a musician the best way to describe it is like someone eating ham sandwiches everyday for the last 20 years ITS OLD!! I DON'T hate ham sandwiches I am just not going to eat another ham sandwich as long as I live because I dont have to anymore.

HOWEVER, Jason is from here Arizona and he gave alot to the valley in the underground Thrash Metal world in Flots and Jets. Jason prior to joining Metallica LOVED the Underground scene. I have close ties myself with Flots and Jets I played shows with them (post-Jason) line up and I have hung out with Eric AK many many of nights back in the day when I was active with my first band in the early 90s. After Metallica he joined one of my ALL TIME favorite bands Voivod and has done a great job for them. i really really like Jason so with that established and without bias. Jason got to live TWO of his major dreams in life. joining Metallica then after that joining another band he dreamed about playing with Voivod. He has had Double the opportunity that people would kill for a quarter of.

NO I DON'T FEEL TO BAD AT ALL FOR JASON PERIOD! Sorry but absolutely NOT

Newsted got the shaft from Metallica. The dude was actually a really good bass player but the rest of the guys had so much history with Cliff that they couldn't let it happen. Listen to how push back in the mix his bass is on the Justice album. If you want to check out what he really could do, listen to the Flotsam and Jetsam album he played on prior to joining Metallica and a lot of the home demos he did with friends. With Metallica's "no side projects" rule, Jason was screwed.

Hi Riki,

I'm not going to fire off quite as forceful a response as [S], but as a bass player I took particular note of that transition from Cliff to Jason - even though, at the time of Cliff's death, I hadn't yet discovered the band's music and didn't know how good a player he was.

A friend bought me (as an Xmas gift) "And Justice For All" and I thought, if the recording was any drier I'd have to drink a gallon of water. And...where was the bass? They replaced a rising talent with an 'invisible' bass player, as if to hide any inadequacies?

Even though Jason's presence would finally shine more on later albums, I'm in agreement that he started off at a disadvantage. In a Bass Player interview Jason commented that it wasn't until "Enter Sandman" and the black album that he was able to get a decent bass sound and presence in the final mix.

However, Jason doesn't lack for ego, either. In the same interview (dating from around '94, if memory serves) he bragged about how Metallica, pound for pound, would "crush" its competition for heaviest band.

If internal band dynamics prevented him from demonstrating the full range of his talent, then perhaps should he have left the group earlier?

Yes. Even though Cliff Burton was highly creative and original, I think Jason did a good job while in Metallica. Nobody could really replace Cliff, because he was so unique.

How do you think about the answers? You can sign in to vote the answer.

Well the problem was that they hired him to quickly. Cliff was one of the most important pieces of the puzzle that we call MetallicA and like you said we just weren't ready to let go of Cliff. To be honest i really didn't like newsted from the start simply because he thought that he was an original in MetallicA and the fact is that he wasn't he tried to take too much credit too fast and what was with that crazy hairdoo in the 80's/90's? The sides of his head shaved and the middle super long?! Could you get anymore HOMO?

Source(s): R.I.P Cliff you left us too soon..... :'(

Yeah Rik, I think Jason got kind of a raw deal, but it seems to happen to every player that steps in to fill another's shoes that was loved and respected by the fan base. The same thing happened to Jake E Lee when he stepped up and took Randy Rhoads place in Ozzy's band after Randy's tragic and sudden death. Ozzy's fan base at that time was not ready to accept another player, so quickly after his death. In this case the comparisons between Jake and Randy are still an open debate today....although Jake took it pretty well it did wear on him. Jake to this day is very underrated and in my opinion unfairly underated..the dude is one of the best rock guitarists on the planet. Ditto for Jason.

Newstad left Ozzy's band shortly after the video you posted was shot..due mainly to creative differences and reportedly he didn't get along very well with Zakk, although that's never really been confirmed by either one of them in a public forum.

Trujillo is in my opinion an alright musician, although now he has the unwanted reputation for becoming a musical whore after playing over Bob Daisley's bass parts on Ozzy's horrific remaster's Blizzard of Ozz and Diary of a Madman. It's too bad nobody compares him to Bob Daisley, but probably for good reason...he couldn't hold Daisley's jockstrap when it comes to writing music and lyrics, so never mind comparing him to Burton. Apples and Oranges. Burton is by far the more talented and creative (than Trujillo) but alot of time has passed and people tend to forget and their emotions dull over time. RT has had the advantage of that in his favor.

Yeah. Metallica took all their rage and stuff out on Newstead. I read one of Metalica's books and watched videos, and they stated they pulled terrible, mean tricks on Newstead like at 3 in the Morning. Also, Newstead never got his say. The only song he wrote was "Blackened" (Which was awesome I might add) and all the other songs he wrote, Metallica laughed in his face and threw them out. Hetifield would bully Newstead sometimes. Newstead had great ideas, which could have made a difference in the Blackest Album. He was a great bassists, and a great songwriter. I'm a huge Metallica fan but the thing that pissed me off was how Newstead left. Metallica practically pushed Newstead to quit.

Jason should have gotten more respect. He played bass on many of their albums. He even co-wrote a few songs with James & Lars.

My Friend in Misery on the Black Album is one.

No, I don't think he was given a fair chance at really being a member of the band. It's like he was treated as a studio musician, someone who would play what he was told to play.

I think it's because they were so distraught after losing a remarkable talent, they wouldn't accept anything less. that's around the time they made the transition from badass to ******* when he left.
Still have questions? Get your answers by asking now.