Why do people consider the confederate flag racist?
The civil war wasnt necessarily fought over slavery, it was over succession. Actually only 15% of southerners had slaves before the war, there were much more slave owners in the north. So why does the confederate flag get so much hatred. I am proud to be a southerner and my confederate flag is a sign of that. Is that so wrong? It symbolizes where im from. Granted there are some people who use it for racism, but that's them not me, and categorizing me into that would make the person judging me racist themselves wouldn't it?
Update:
http://www.youtube.com/watch?v=o8hPo6mYnks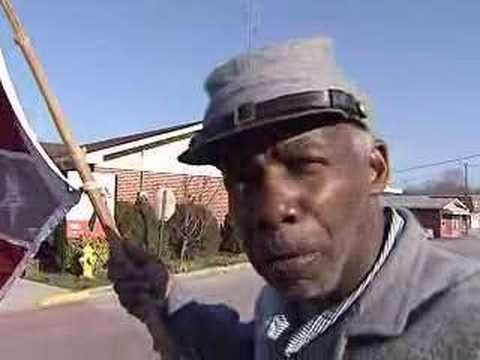 Look at this link. Black confederats
Update 2:
Just because some people find it to be racist doesnt make it just that. And no just because they had a lesser percentage rate of slaves doesnt make them less liable, but it doesnt make them more liable either. The swastika is completly irrelevant because it WAS used as a symbol of hatred. It was originally used in many countries to represent life, sun, power, strength, and good luck, then hitler used it for a flag he thought to be most powerful to strike fear. the swastika WAS used by an entire country for racism, as the confederate flag was not
Update 3:
One point i would like to make is that IT IS bigotry in itself to judge me for what i am and what i care for.
Update 4:
One point i would like to make is that IT IS bigotry in itself to judge me for what i am and what i care for.
Update 5:
and to Roxy B. Im sorry that you are treated poorly, but its the same thing. If people were offended by a flag you have in your home representing your religion would you just not use it?
Update 6:
THE SUCCESSION WAS DUE TO GEOGRAPHICAL AND CULTURAL DIFFERENCES BETWEEN THE NORTH AND SOUTH NOT SLAVERY
People do that with alot of things. Has nothing to do with slavery. The war had a lot of issues to fight for and it wasn't over slavery.

http://en.wikipedia.org/wiki/Confederate_flag

Isn't that so annoying when someone answers a question with a question and doesn't attempt to answer yours?

Login to reply the answers

You are right in that the civil war was over succession. However, the reason the south primarily wanted to succeed was so they COULD own slaves. But regardless of this, the reason MOST people hang the confederate flag these days is to show their 'white pride' rather than 'southen pride'. This flag has become a hallmark for racist groups, whether it was intended that way or not. Many things don't start out as racist but transcend that way. The n**** word comes from spanish '*****' meaning black. But would a (non-black) person use this word today?

Hitler's swastika is stolen from a Hindu symbol that is essentially a swastika in reverse. Today would this be a cool symbol to walk around with if you truly thought it was going to offend people?

I am not trying to be rude but... aren't you black? It looks that way in your avatar. I understand that YOU know the meaning of this flag and that you have southern pride, so there is NOTHING wrong with you having the confederate flag.. but at the same time you can't get mad at people who assume something different is meant by it. Just like the swastika thing. If I were to see a swastika I would assume its because somebody is racist not the off chance that that somebody likes hinduism or is a hindu. So you can hang the flag all you want, but be prepared for the backlash. It will be perfectly expected. There are certain words and symbols in today's society which mean very real and horrible things which have impacted people severely and there is no reason somebody is going to think the best you know. Does this make sense? I hope this helps.

Do realize what you are doing has the potential to effect others and offend them. I get offended and my bf does too when we see the confederate flag because 99% of the time its a racist person who hates us (he is from India, we are both Muslims). People treat us HORRIBLY in the south and lots of times those same people have the confederate flag. It makes us feel not welcome. Maybe a few times when we see it that person is not racist at all, but it still just makes us feel bad. Does that make sense? The point is, maybe you don't mean it that way but most others do so what you are doing other people will take as offensive.

OP - I never said it was wrong for you to wave your flag. If you are proud of being southerner and thats what it means to you you should wave it proudly. All I said was understand the mentality of people on the opposite side. Yes I would still hang a flag from a different country... if I had one (I am American) but I would be careful about it. I don't know any Saudi Arabian here in US that would hang a Saudi flag even though SA and America are friend countries... only because they know people woudl give them backlash and don't feel a need to rub it in people's faces. My bf is from India and would never hang an Indian flag... not because he thinks it would offend but because he doesn't see the point... its not India... he can be proud in his heart...

but a point my bf has that's relevant is why be PROUD of a geographical region. You did nothing to be born in South... you didn't have to work to be a southernor... you accomplished nothing... you simply are... so why be proud of that? It's a bit pointless. Why not be proud you have worked for an education, or you can draw, or you can sing.. or something that you have accomplished.

EDIT: OP . I am most likely going to move to middle east. Don't think I'd be caught dead hanging an American flag there. Even though I know the true meaning of America many people would just associate it with Israel/killing of Muslims in Palestine and so I wouldn't hang it because it would offend people. Is it ignorance on the part of those people partly so yes but nonetheless, why go through the hassle. I don't care if people know I'm American. I'm not trying to tell you you are wrong I'm just trying to make you see the mentality of the other side so you can make your decision based on that. So it just comes to a personal choice.

Source(s): southerners hate me and my boyfriend because we are Muslims...

Login to reply the answers

Because the civil war was still also fought because of slavery. The south wanted to keep slavery, and since the confederate flag represented the south....

I would still consider a person racist if they wanted their state to keep slavery, even though the person doesn't necessarily have slaves.

Login to reply the answers

Southern pride and the confederate flag or not necessarily the same thing.

I'm from the South too. (Though I moved away.)

And, granted, the Civil War wasn't ONLY fought over slavery, but the way minorities were treated there was simply cruel.

Not to mention, rather un-American.

The common perception of that flag is racism, so I suggest you just be safe and don't use it.

Login to reply the answers

How do you think about the answers? You can sign in to vote the answer.

No Clue.

I'm from Texas,and i'm not white,i'm not a redneck,i'm not a hick and i'm not racist,and i don't own a confederate flag,but the Confederate Flag is about Southern Pride.

Yes some people may wave it because they still have the mentality that the "South Will Rise",but not every person who waves it believe that or thinks that way

It's southern pride

Look if someone wants to wave the swastika around,go ahead,it isn't hurting me or anyone else.If someone wants to wave the confederate flag around,go ahead,it isn't hurting me or anyone else.It's their ignorance not mine.Everyone has their own views,if they happen to be ignorant,so be it.Not my problem.I'm not losing sleep over it at night

Login to reply the answers

Whether you view the flag as racist or not, it is widely viewed by non-Southerners as a symbol of slavery.

Some people believe Hitler did a great job of keeping the German trains running on time. Does that mean they shouldn't feel guilty about waving a swastika around?

Some straight guys REALLY like rainbows. I doubt they will hang a flag with a rainbow outside of their house though.

Login to reply the answers

So whomever has the least amount of slaves should get less flack? -_-

Whether they were from the North or South, people still did not associate with Black people on a human level. The confederate flag was during a time of idiocy (understatement).

Source(s): Alana just shut this post down.

Login to reply the answers

Im sorry to say but yes, people of color do find it to be offensive, even if the intention is not meant to. It's just a reminder of that horrible era. It kinda is like a person waving a flag with a swastika on it.

Login to reply the answers

The confederate flag was adopted by the KKK in the late 70's and early 80's, so there is still connection in some people's minds about it carrying racist bigotry.

Login to reply the answers

Umm because it IS racist?! Those black confederates don't seem to understand that the Southern states wanted to secede from the United States because they wanted slavery to be LEGAL, which is exactly what the confederate flag represents.

Login to reply the answers
Still have questions? Get your answers by asking now.