Which Country do these actions this sound like?
1: Referring to protesters as low level terrorists
Sources:
Right: http://www.wnd.com/index.php?fa=PAGE.view&pageId=1...
Left: http://open.salon.com/blog/dennis_loo/2009/06/14/d...
2: Government wanting to seize more control of the public airwaves:
Right: http://www.wnd.com/index.php?fa=PAGE.view&pageId=1...
Left: http://www.commondreams.org/views05/0212-03.htm
3: More Government Control of what can be seen on the internet:
Right: http://www.wnd.com/index.php?fa=PAGE.view&pageId=9...
http://www.wnd.com/index.php?fa=PAGE.view&pageId=9...
Left: http://www.commoncause.org/site/pp.asp?c=dkLNK1MQI...
4: Armed people at polling places, intimidating voters: http://www.wnd.com/index.php?fa=PAGE.view&pageId=8...
http://www.youtube.com/watch?v=HzBVxP5wzCY
http://www.youtube.com/watch?v=lFpfQpuuVzI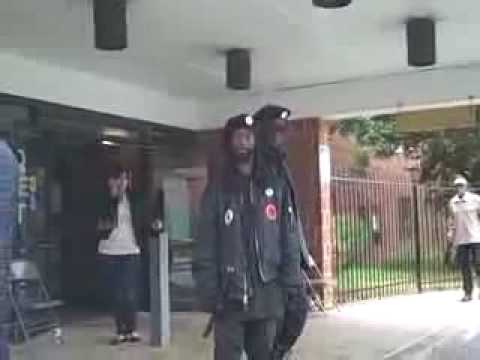 Is this America or Iran?
The similarities are scary..
Update:
All of my links above are for American examples.
I figure you have heard about how the government in Iran is doing similar things.
I am not a Republican, I am Libertarian / Constitution Party.
The Republicans are not perfect, no one is perfect on this side of eternity.
I love how no O-Drones have responded yet, I asuppose as long as it is there guy, they don't guy.

I remember learning about a young charismatic guy who came to power promising change, the people and the media ate it up and voted him into power then over the years he went about rigging the election where that he always won with 99% of the vote, and then consolidated power to the point where that he eventually called off all elections and now his brother rules with an Iron Fist.

The below letter is not from me, it is from a Cuban American who escaped a similar situation.

A most interesting and foreboding letter.

From Richmond Times-Dispatch, Monday, July 7, 2008 ~

Dear Editor, Times-Dispatch:

'Each year I get to celebrate Independence Day twice. On June 30th I

celebrate my independence day, and on July 4th I celebrate America's. This year is special, because it marks the 40th anniversary of my independence.

'On June 30, 1968, I escaped Communist Cuba, and a few months later, I was in the United States to stay. That I happened to arrive in Richmond on Thanksgiving Day is just part of the story, but I digress.

'I've thought a lot about the anniversary this year. The election-year

rhetoric has made me think a lot about Cuba and what transpired there. In the late 1950s, most Cubans thought Cuba needed a change, and they were right. So when a young leader came along, every Cuban was at least receptive.

'When the young leader spoke eloquently and passionately and denounced the old system, the press fell in love with him. They never questioned who his friends were or what he really believed in. When he said he would help the farmers and the poor and bring free medical care and education to all, everyone followed. When he said he would bring justice and equality to all, everyone said, 'Praise the Lord.' And when the young leader said, 'I will be for change and I'll bring you change,' everyone yelled, 'Viva Fidel!'

'But nobody asked about the change, so by the time the executioner's guns went silent, the people's guns had been taken away. By the time everyone was equal, they were equally poor, hungry, and oppressed. By the time everyone received their free education, it was worth nothing. By the time the press noticed, it was too late, because they were now working for him. By the time the change was finally implemented, Cuba had been knocked down

a couple of notches to Third-World status. By the time the change was over, more than a million people had taken to boats, rafts, and inner tubes. You can call those who made it ashore anywhere else in the world the most fortunate Cubans. And now I'm back to the beginning of my story.

'Luckily, we would never fall in America for a young leader who promised change without asking, what change? How will you carry it out? What will it cost America?

'Would we?'

Manuel Alvarez, Jr.

Login to reply the answers

This sounds like a country sliding towards Fascism, probably not as quickly as the Weimar Republic did before Nazi Germany, but sliding nonetheless. It is very unfortunate that I can recognize these actions as ones occurring in the United States. It is not only the Federal Government that is pursuing these types of actions and it is not only directed against conservatives. In New York City for instance, the police requires any demonstration with more than 50 people to have a parade permit, which gives them a large amount of power to arbitrarily limit freedom of assembly. There have been times when the police considered even two bikers as a "parade". People involved in protests are routinely videotaped. Over 1800 protesters were detained during the 2004 Republican National Convention in New York City. The police had holding areas ready for them and while there were undoubtedly some people who crossed the line into disorderly conduct, many innocent people were also swept up in the mass arrests. I am not a Democrat or a Republican; I am an independent voter because I think both parties are selling us out and trashing the Constitution, although in fairness there are politicians in both parties who do stand up for liberty, sometimes selectively but sometimes in a very principled way. It's scary that there are so many who don't though and that so many horrible policies are getting passed. I suppose it's the reaction to 911 and the threat of terrorism, but when so many restraints on the government's power get lifted and the democratic process gets subverted by money and by people in government who think that they are an elite who know better than the voters who they're supposed to represent, there's a big threat that democracy will be lost.

Login to reply the answers

Unfortunately, all of those things are happening or have happened in America. What is truly scary is that so few people know (or care).

Power is a drug. The more we cede to the government, the more they want. We need another revolution, not like the wussy, self serving "tea party" recently staged by the Republicans, but a complete reset of the system.

It's a troubling irony that we, the first creatures to be endowed with foresight and responsibility, should abdicate instead to hopelessness or sloth. We seem willing to watch our world destroyed before us by misguided individuals, our republic raped by flag-draped criminals. Yet, somehow, we fail to acknowledge the influence an individual can assert, and in turn, we fail to act.

"A little rebellion now and then... is a medicine necessary for the sound health of government."

Thomas Jefferson

Login to reply the answers

Hello fellow libertarian! I agree this is all creepy. But it happens so incrementally no one notices. America is going the way of western Europe which is going the way of 1984.

BTW, since you are Libertarian, did you vote their candidate for Prez last year? Bob Barr for gods sake, who thinks marijuana equals life in prison?

Login to reply the answers

How do you think about the answers? You can sign in to vote the answer.

Both the United States and Iran does exactly the same thing to each own's citizens.Funny though...

Login to reply the answers

Iran of course, and the U.S.

Login to reply the answers

Yeah, this is scary. I don't want anyone trampling on my rights.

Login to reply the answers
Still have questions? Get your answers by asking now.