POLL: Did the tunnel scene in "Willy Wonka" (older movie version) ever scare the cr*p out of you?
I remember being petrified by the CREEPY part when the kids go into the tunnel on the boat, I'm nearly 16 and still find it scary to watch on Youtube! Imagine watching that in the cinema, I'd probably get serious nightmares or never sleep again. However I've also watched the movie with Johnny Depp and I think the tunnel scene is much better in that one, then again the special effects make it amazing to watch!
Update:
Here it is:
http://www.youtube.com/watch?v=2Zail7Gdqro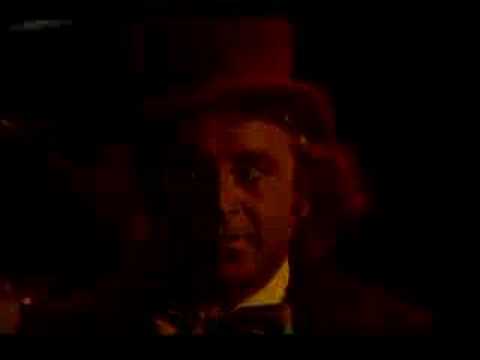 Update 2:
Oh yeah and it shows a chicken having it's head cut off...WTF THIS IS MEANT TO BE A CHILDREN'S MOVIE?!
I always had to turn it off as a child. Especially the chicken beheading shot.

It almost seems like Wonka put them on a bad acid trip after feeding them drugged up candy. It seems like he'd love little mind games like that.

Login to reply the answers

i'm 13, and i really find it creepy. i remember when i was about 9 i watched the film, and that night i had a nightmare about it and it creeped me out for weeks. I much prefer that scene in the johnny depp film. I don't think i will watch that again lol x

Login to reply the answers

i remember loving the opening part with all the chocolate. and liking all of the movie....till the tunnel part. just weirded me out, like, what is the point of that?? doesn't add to story, plot, or anything (that i can remember of)

you are not the only one i know of that was weirded out by that movie as a kid/adult.

but if u think about it, there are many many many children's movies with parts that are probably not meant to be in a kids movie. can't think of any examples at teh moment.

do you remember if it was in the book? i can't recall. just curious

Login to reply the answers

I'm with you..that tunnel scene was creepy-and I'm 40!! :) It was the part with the snake and Gene Wilder just singing oblivious to everyone freaking out that got to me

Login to reply the answers

How do you think about the answers? You can sign in to vote the answer.

The tunnle scene from both versions creeped me out.

Login to reply the answers

I thought it was creepy when i first saw it, but it had great effects. it was a good movie

Login to reply the answers

HECK YEAH...I was watching it when I was younger and I cried...it gave me nightmares for ages....especially the bit with the bugs.. *eugh....still gives me shivers!

Login to reply the answers

I am the same it scared me every time it gets to that part I fast forward it.

Login to reply the answers

Login to reply the answers

Login to reply the answers
Still have questions? Get your answers by asking now.