WHAT LAB OR WHO WILL BENEFIT FROM TRYING TO FIND A VACCINE FOR THE SWINE FLU = RUMMY RUMSFOOK & CORP?
http://www.youtube.com/watch?v=r42oejmpkgw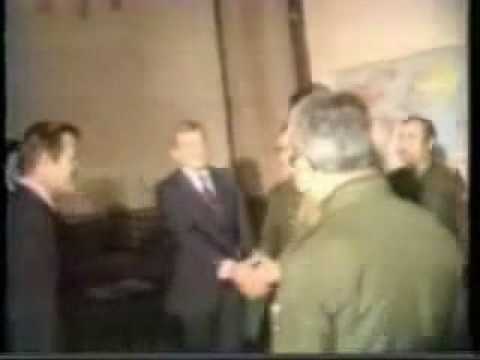 and was that guy in the corner = Cheney?
&
Posted: May 9, 2004
12:18 AM Eastern
by NWV Staff Writer
© 2004 NewsWithViews.com
Aspartame is an additive found in diet soft drinks and over 5,000 foods, drugs and medicine. It was approved in 1983 for use in carbonated beverages.
In reality, aspartame is a drug, not an additive. It interacts with other drugs, has a synergistic and additive effect with MSG, and is a chemical hyper-sensitization agent. Dr. John Olney, who founded the field of neuoscience called excitotoxicity, attempted to stop the approval of aspartame with Attorney James Turner back in 1996. The FDA's own toxicologist, Dr. Adrian Gross told Congress that without a shadow of a doubt, aspartame can cause brain tumors and brain cancer and violated the Delaney Amendment which forbids putting anything in food that is known to cause Cancer.
Dr. Ralph Walton, Professor and Chairman of the Department of Psychiatry, Northeastern Ohio Universities College of Medicine has written of the behavioral and psychiatric problems triggered by aspartame-caused depletion of serotonin.
Aspartame causes headache, memory loss, seizures, vision loss, coma and cancer. It worsens or mimics the symptoms of such diseases and conditions as fibromyalgia, MS, lupus, ADD, diabetes, Alzheimer's, chronic fatigue and depression. Further dangers highlighted is that aspartame liberates free methyl alcohol. The resulting chronic methanol poisoning affects the dopamine system of the brain causing addiction. Methanol, or wood alcohol, constitutes one third of the aspartame molecule and is classified as a severe metabolic poison and narcotic.
The history of aspartame and its approval has a political history as well as a scientific one. According to Dr. Martini,
"When Donald Rumsfeld was CEO of Searle, that conglomerate manufactured aspartame. For 16 years the FDA refused to approve it, not only because its not safe but because they wanted the company indicted for fraud. Both U.S. Prosecutors hired on with the defense team and the statute of limitations expired. They were Sam Skinner and William Conlon. Skinner went on to become Secretary of Transportation squelching the cries of the pilots who were now having seizures on this seizure triggering drug, aspartame, and then Chief of Staff under President Bush's father. Some of these people reach high places. Even Supreme Justice Clarence Thomas is a former Monsanto attorney. (Monsanto bought Searle in 1985, and sold it a few years ago). When Ashcroft became Attorney General, Thompson from King and Spalding Attorneys (another former Monsanto attorney) became deputy under Ashcroft. (Attorneys for NutraSweet and Coke).
Actually you should check Al Gore

April 25, 2009...02:44

Venture capital firm (Kleiner Perkins = AL Gore) set to reap rewards on swine flu…

http://nwoobserver.wordpress.com/2009/04/25/ventur...

LOS ANGELES (Reuters) - The swine flu outbreak is likely to benefit one of the most prolific and successful venture capital firms in the United States: Kleiner Perkins Caufield & Byers, Thomson Reuters Private Equity Week reported on Friday.

Shares of the two public companies in the firm's portfolio of eight Pandemic and Bio Defense companies — BioCryst Pharmaceuticals and Novavax — jumped Friday on news that the swine flu killed a reported 60 people in Mexico and has infected people in the United States.

The World Health Organization (WHO) said the virus appears to be susceptible to Roche's flu drug Tamiflu, also known as oseltamivir, but not to older flu drugs such as amantadine.

Login to reply the answers

The problem with ANY flu vaccine is that it is a best GUESS at treating a flu. And even if the researchers get it right, it will only work for a year or so and then the flu will mutate in to something else. By the time researchers create a vaccine for this breed of flu, it will likely not work.

Login to reply the answers

The why would Obama release the virus? Is he in line for some of these profits or does he just like killing people?

Source(s): Aren't conspiracies fun?

Login to reply the answers

Source(s): PS.. Bigfoot called, he's going to be late picking you up from school today.

Login to reply the answers
Still have questions? Get your answers by asking now.