"Common People" (Pulp) or "The Universal" (Blur)?
"Common People" -- http://www.youtube.com/watch?v=xMg8V3nGNuY
"The Universal" -- http://www.youtube.com/watch?v=Papa_qi7evU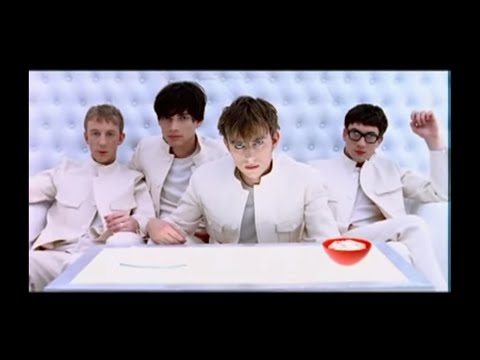 Which song do you prefer?
The Universal.

As soon as I heard it, I saw a new side to Blur.

Being a fan, even I had trouble believing there was more to Blur than "Country House" and "Coffee and TV" but hearing "The Universal" let me appreciate Blur's other works so much more.

It's so different to what is expected of them but still holds a candle to the original classics Blur had.

With all due respect to "Common People," "The Universal" takes the cake for me.

The video is just amazing. Makes you believe your in a different world, a world of your own and 'Blur' does not exist, but there's this strangely familiar band playing at the club who have a whole new feel to them. The "Clockwork Orange" theme makes it even more appealing to people new to Blur, gives them a broader horizon of fans.

The song is equally as amazing and Damon's voice is stunning. He and Graham especially are something of an intellectual.

Shame the future doesn't look so intriguing....

Great question :D

The Universal, it's a much better track than Common People.

Common People. A classic.

It's difficult. I mean as awesome as Blur's "The Universal" is, when we are all dead and buried and the historians start seriously going over the phase of Brit-pop, "Common People" will go down as possibly one of the most defining songs of the Brit-pop phase and still go down as an outrageously cool song.

Plus who has the heart to hate Jarvis Cocker?

EDIT: Plus if it's good enough for William Shatner, it's good enough for anyone...

How do you think about the answers? You can sign in to vote the answer.

i could actual positioned them interior the comparable order as you! stay invariably is one in each of my fave Oasis songs mutually as there are some Blur songs i admire greater advantageous than The known and that i haven't fairly have been given into Pulp yet.

2 great songs there Paperbag but i'll have to go with Blur's "The Universal". It's a timeless classic and I never get sick of getting lost in the song. A Freaky video to go with it as well:D

Aww! I love Common People :)

Pulp!
Still have questions? Get your answers by asking now.