Why do people think Lebron isnt a 'creative' dunker?
People seem so one track minded... That just because he does a tomahawk most of the time, they think thats the only dunk he's capable of? Seems like yal forgot about the rookie sophomore game where bron, wade and melo were going between the legs off the glass and off lobs (Even Tay Prince did it).... And he has no body control? Last time I checked, you cant do reverse up and under layups all the time with sloppy body control...
http://www.youtube.com/watch?v=PMRwxsBHH-g
(Thats just in warm ups)
http://www.youtube.com/watch?v=1gGblNJ9ya8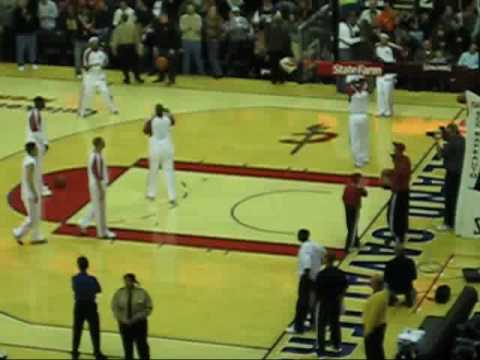 (Once again, warm-ups..)
This dude has the 2010 contest in the bag...
Update:
I just got a bunch of dumb answers, minus a few...
Update 2:
OK now I got good answers... Mamba does a good job as usual....I think next year's dunk contest should have these people..
LeBron
D-Rose
Howard (I dnt think he has any good ones left)
Kobe/Vince (Aging dunkers, but regardless of age, arent these the people we want to see?)
Simple, most people haven't seen him do anything but a tomahawk. I must admit, I did think that he might lack in creativity, but those were some nice dunks.

I wouldn't say he has the dunk contest in the bag unless its like the contest this year. I mean, this year they totally rigged it to be Nate vs DH12 in the finals, and I could see the NBA rigging it again to make LeBron go to the finals just because they want the extra hype. In all honesty though, he has a great chance, but I'd like to see the NBA bring out the real competition and make it something to watch again.

People who have said that just haven't seen him do any spectactular dunks such as between the legs or a 360. I know for a fact he is a creative dunker.

You can't be a good of a dunker as this man is and not have some creativity in dunking a ball. Come on now people.

Source(s): Mamba

LeBron James is a astounding on the courtroom participant. even as it is composed of being imaginative, i do not imagine that is his section. in case you ever watched his previous dunk contest, previously he were given drafted, he sucked to be straightforward. He can upward thrust up there to dunk yet he's purely no longer dat imaginative. he's normally contained in the dunk contest next 3 hundred and sixty 5 days, so we can see what he brings. You by no ability understand, perhaps he has a imaginative section, we will see.

He actually said he isn't very creative. I think he is more creative than he lets on, and some of his teammates could probably pitch him some ideas, but I'm still not sure he can win the dunk contest yet. But I was wrong about this year's outcome, so anything can happen.

How do you think about the answers? You can sign in to vote the answer.

He is a power dunker, but I think he's creative. If you throw in a few props, he would be golden.

He's going to win the dunk competition next year. No doubt.

EDIT: He can do what Dwight Howard's free throw line dunk in a game. http://www.youtube.com/watch?v=f-n8c5BK5T0

&feature=related

This is my favorite LeBron James dunk: http://www.youtube.com/watch?v=P_eCOt5TKpI

&feature=related

http://www.youtube.com/watch?v=6lQkDbUy4x8

and this one http://www.youtube.com/watch?v=RKbHUhh3eEI

&feature=channel

He stays in the air for a ridiculously long time, its like he's flying.

Yeah,you are the person who sar LeBron dunking between his legs is samphmore gmae,yeah that was awsome and Wade did it,wow!They just don't like LeBron,that why they're talking crap!His a great dunker,creative one too

Here's LeBron dunk between legs

http://www.youtube.com/watch?v=oHgUUEMHuNs

&feature=related

Source(s): NBA

yup

i guess people just wanna see stupid gimmick dunks

i mean remember back when players used to just throw it down like D Wilkins Dr. J Jordan & Vince Carter ... hopefully we can get back to that really I don't care about superman & batman capes or a 7 foot player funking on a 1 foot rim when a bunch of other players could do the same thing

they are all freakin idiots

lebron is a human highlight real and it is tru that his signature dunk is that tomahawk but people are callin him not "creative" when they never saw him in a dunk contest or anything

those warm ups he did were basically dunk contest material dunks (first one resembles rudys dunk,second was sik)

thank im not the only one who feels this way

People usualy say he is power but I think he is creative and power people got different opinions I guess

Because he repeats his dunks! he does the same ones unlike wade! wade 4 mvp
Still have questions? Get your answers by asking now.