Do you like french fries dip in hot fudge sundae?
I've seen this commercial on TV two nights ago and it made me cry (kahit na wala akong first love).
Do you like to dip french fries in hot fudge sundae?
Anyone here at YAP who also love this commercial?
I thought magaling talaga ang Pinoy creating such beautiful ad like this!
Would like to hear your thoughts! Thanks!
Source: http://www.youtube.com/watch?v=8VdG8eCxors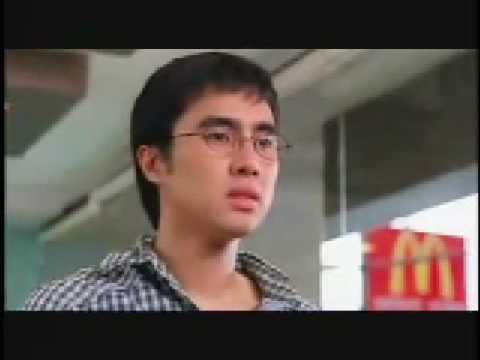 Better take some cholesterol lowering medication with that order!

Login to reply the answers

I haven't tried fries with a hot fudge sundae, but when I go to Wendy's I like dipping their fries into a chocolate frosty.

Login to reply the answers

I dont eat too much french fries anymore, nor go to McDonalds...

But I definitely love this commercial. Sentimental and touching, only Pinoys can pull through with great ads like this.

Login to reply the answers

I like three scoops of ice-cream. They can be vanilla, strawberry, chocolate or just one flavor. I like one banana split in two to be placed on either side of the sundae. Then some hot fudge be drizzled on top of the ice cream. Whip cream placed on top, with some slices of fresh banana within in the dish. Finally some more chocolate be spread over the whip cream and bananas with maybe a strawberry or two in it. Then to top it all of, some sprinkles.

Login to reply the answers

How do you think about the answers? You can sign in to vote the answer.

ohh, that's so sad... I've never seen this commercial before...

but anyway, that's kinda weird though, when you dip your fries on a hot fudge sundae... I don't know what that would taste like, but I'll try when I go to McDo... jejeje...

Login to reply the answers

WOW! I never thought of dipping fries in a sundae before. I knew it could be done, but it sounds unhealthy. I'll try it today I guess.

Login to reply the answers

i dip the fries on the vanilla ice cream, but on the chocolate fudge itself? no

i love the 80's flashback of the commercial seeing those hairdo's and dresses reminds me of my mom when she was much thinner. hahaha... the ad as a whole was bittersweet so it doesn't entirely work for me but i'll still eat at McDonald's if i'm craving for fast food.

Login to reply the answers

yup, i love dipping fries in sundae. i just don't get to do it often because i don't always order a hot fudge sundae with my meal.

i also prefer to dip french fries in mayonnaise than ketchup. if there's no mayonnaise, then i'd rather eat it plain.

Login to reply the answers

Yes, doing that since I'm a kid. And I really really love the commercial!

Another good commercial from McDo, and I think that will be remembered by many, like the Karen po ad.HAHA

Source(s): Eraserheads: THE FINAL SET 03/07/09

Login to reply the answers

Never ever tried that.

I like mine with lemon juice and then dipped in BBQ sauce.

I like the ad.

Login to reply the answers
Still have questions? Get your answers by asking now.