Christians: Do you speak out against fundamentalism?
I often hear Christians asking why (and criticizing) moderate Islam's failure to consistently speak out against Islamic extremists and fundamentalists like Osama Bin Laden and the theocracy in Iran.
Keeping this critique of Islam in mind, shouldn't moderate Christians practice what they preach and speak out against Christian extremists and fundamentalists like Anne Coulter, Shirley Phelps-Roper, and Pat Robertson? These fundamentalists do the Christian religion more of a disservice than a service, and are rhetorically comparable to the worst examples in extreme Islam.
So, rather than focusing your collective domestic efforts against homosexuality, divorce, and welfare reform (all of which actually undermine the ability of Christianity to appeal to the mainstream) why not focus against the folks in your own ranks who literally give Christianity a bad name? Why not speak out against those who weaken your message of love and forgiveness?
Examples of Christian extremism:
Anne Coulter http://www.youtube.com/watch?v=2wnPHFSdrME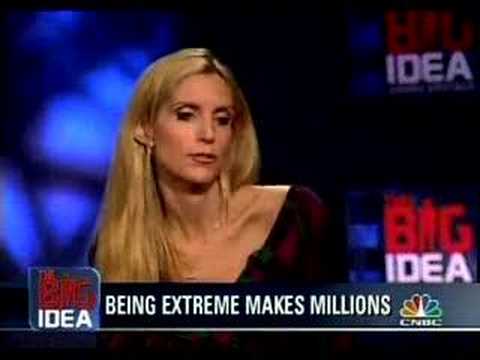 )
Shirley Phelps-Roper http://www.youtube.com/watch?v=-STpW7jarrs
Pat Robertson http://www.youtube.com/watch?v=Q-RGWXMGKq0
&feature=related
Update:
KJV-1971: Spoken like a true fundie. You didn't even look at those links, did you?
Update 2:
Rugbyidiot: Calling someone a "filthy miscreant prone to bizarre perversions" because they happen to be homosexual is bordering on hate-speech. It is certainly bigoted rhetoric.
Watch the links.
Update 3:
Safi: Sure. Or appear on CNN or Fox across from these folks as moderate voices. Or counter these bigots by parodying them... Anything helps.
You bet. I've done it via the media (radio, TV, newspapers, more) and many public lectures. I've stood on picket lines, and have openly challenged local Fundamentalists who have tried to draft discriminatory laws, ban books, and other nonsense. Religious extremism is bad enough, but when it's coming out of my own religion, it's time to stand up and say something. I do not wish to live in a theocracy, and will speak out anytime I see people attempting to breach the separation between church and state. Christian extremism has got to go. I do not condone people preaching hatred and bigotry in the name of Christ.

Login to reply the answers

I think you are confusing extremism and fundamentalism. The word fundamentalism has earned a negative connotation, but was simply intended as a response to religious liberalism. An extremist would be somebody that shoots an abortionist in the name of life, a fundamentalist is someone who insists on doing Christianity the way the scriptures say.

Login to reply the answers

I don't know who Shirley Roper is but Ann Coulter and Pat Robertson I have a great dislike for the things they say.

I have watched the 700club but that smiley man just annoys me and he like Jack Van Impe always predicting stuff...ugh

So yes I guess I do speak out against some people who are called Fundamentalists, however I have been classified as one myself. Though I prefer to just be called a Christ follower.

Login to reply the answers

The best way to "speak out against" fundamentalism is....to not listen to it. Because so many of the beliefs attached to fundamentalism are backwords; it's not worth speaking out against.

How does speaking out against homosexuality,divorce and welfare reform undermine christianity? I can't agree or disagree w/ you because you haven't shown why.

You have listed individuals to speak out against; and argue that christians should attack these individuals instead of focusing on large social issues (ex homosexuality). This does not make sense.

Edit: much better!; yes i agree, hating people like homosexuals or whomever definetely undermines the message of unconditioned love that is christianity. But there are causes with regard to morality that are more relevant than going after certain talking heads.

I am a catholic so I would say that catholics are wasting time speaking out against just homosexuals; this does nothing but alienate everybody. Instead, catholics should speak out against anything(sexual) that is not love between man and wife. I say "speak out against" in reference to the immorality; not persecute the individuals-big difference.

Saying that just one lifestyle deserves contempt is biased. Saying that all lifestyles outside what is meant to be sacred between man and wife is more consistent. It may be more strict, but it is more consistent than picking and choosing which sexual vices should recieve attention.

Source(s): Roman Catholic

Login to reply the answers

How do you think about the answers? You can sign in to vote the answer.

I've never heard of any Christian protests against Fred Phelps and his ilk. Luckily, veterans go to the funerals that group protests to protect the mourners from these fundy idiots.

Login to reply the answers

i totally agree. you couldn't have said it better. BUT, they all have points to be considered. You read how God views homosexuality in the Bible. It may not say the word itself, but it says "Thou shalt not lie with mankind, as with womankind: it is abomination" (Leviticus 18:22). "If a man also lie with mankind, as he lieth with a woman, both of them have committed an abomination: they shall surely be put to death; their blood shall be upon them" (Leviticus 20:13). In these passages homosexuality is condemned as a prime example of sin, a sexual perversion. The CHRISTIAN can neither alter God's viewpoint nor depart from it. What this is saying is that he/she who commits this sin, will not inherit the Kingdom of God.

Login to reply the answers

I love Ann Coulter, she made Katie cupcake look like the idiot she was. Ann is a satirist, when Al Franken makes his rude and crude comments all the liberals laugh, but when Ann speaks truth in satire, they all moan and whine.

I guess I am a fundamentalist. Some of the founding fathers of the USA would be considered fundamentalists today.

Not only that all of my heroes were intolerant. Jesus was intolerant of evil, G. Washington was intolerant of confiscatory tax rates, Abe Lincoln was intolerant of slavery, MLK was intolerant of racial prejudice, SB Anthony was intolerant of abortion and gender prejudice.

Intolerance is a beautiful thing.

Login to reply the answers

If people actually spoke to any Muslims, they would know that Muslims DO speak out against terrorism and extremists.

What do you want them to do? Print a full-page ad in every newspaper or magazine you might read? Who can afford that?

Login to reply the answers

I speak out against intolerant fundamentalist Christians as often as the opportunity presents itself.

Login to reply the answers

I do.

Btw, I also advocate for gay rights and for the poor. You won't find any of my efforts added to those causes you listed.

Have you seen this website? There are lots of us who feel this way, who do speak out, and focus our efforts on the model that Jesus gave us which was to love one another.

Login to reply the answers
Still have questions? Get your answers by asking now.