Who played in a "tougher era", Michael Jordan or Kobe Bryant?
I say Michael Jordan's era by far. I don't know why people think that MJ didn't play against people as athletic and versatile as players of today. If you have time check out these players MJ played against. You're going to see guys that's from 6'6 to 6'10 with explosiveness, ball control, and athleticism. Enjoy:
Dominique Wilkins: 6'7: SF
http://www.youtube.com/watch?v=tyUf-9ruJi8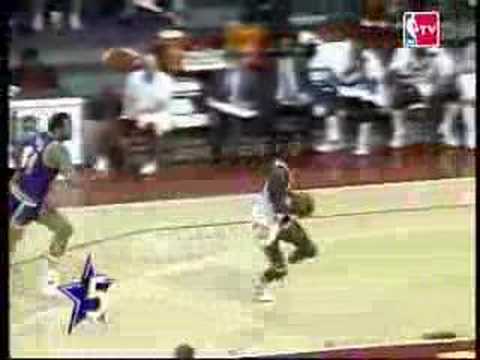 1X Scoring Champ
Usually averaged in the higher 20s in points.
Penny Hardaway: 6'7: PG
http://www.youtube.com/watch?v=QFMBWqffvb0
He was a All-Star that kept a average in the 20s in points.
Grant Hill: 6'8: SF
http://www.youtube.com/watch?v=D87f7aehrnA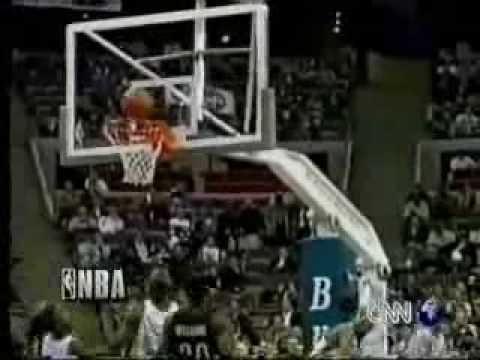 He was a All-Star, averaged in the 20s in points, and was looked to be the next MJ.
Shawn Kemp: 6'10: PF (D. Howard is a C of today & their the same H't)
http://www.youtube.com/watch?v=9OPvh7jdeeo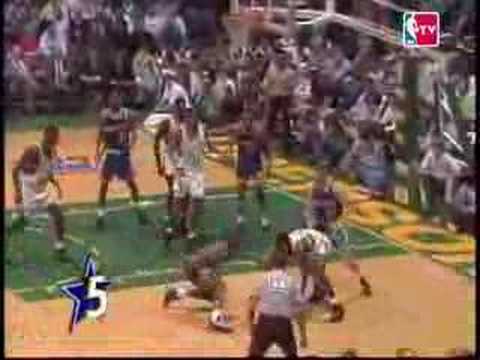 He was a All-Star that could kill you with higher 30 point game and rebounded good.
Clyde Drexler: 6'7: SG
http://www.youtube.com/watch?v=SvjJA93Xy9Y
He was a All-Star, always averaged in the 20s in points, and was very similar to Jordan.
Dennis Rodman: 6'8: PF
http://www.youtube.com/watch?v=P-LHUy6YZyY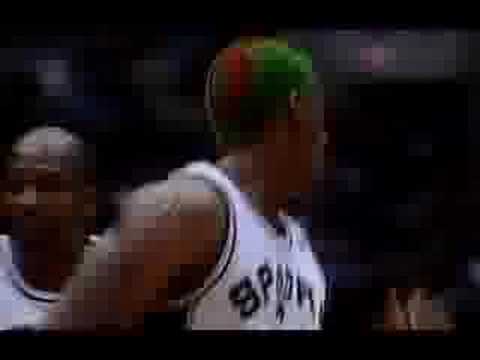 7X Rebound Champ, 1990 & 1991 DPOY (2Xs), he was very strong, and players like Artest & Ben Wallace idolize him. BTW, he only played with MJ for 3 seasons @ the "end" of his career.
Magic Johnson: 6'9": PG
http://www.youtube.com/watch?v=IwoOFEeST3w
No explanation about this player. He's in very ones top 5 of All-Time. Some claim that he was old when MJ played against him but they don't know what there talking about. Magic won MVP 3Xs (87,88,& 90) during MJ's career and he was only 32 years old when he retired in 1991. He was still in prime shape.
Reggie Miller: 6'7: SG
http://www.youtube.com/watch?v=463f9vIeO6E
He's a All-Time best @ clutch plays , he was a All-Star, and averraged in the 20s in points.
Chris Webber: 6'9: PF
http://www.youtube.com/watch?v=9clspq7t_yI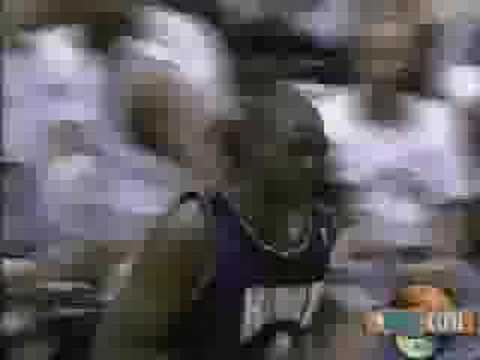 He was a All-Star, strong, averaged in the 20s in points, and a very versatile PF. He came in the league in 1992-93.
Julius "Dr J" Erving: 6'6: SF
http://www.youtube.com/watch?v=rpTfb9SkKaQ
No explaination this player. He's a All-Time Great. He played 3 seasons against MJ (1985 to 1987).
There was plenty more like this but I don't have time to post every versatile player back then. So yes, MJ dominate this era as well. I'll like to see you guys try to name 10 players that's today that's better then the ones I posted. All these guys were special in their prime.
Update:
MJ also had to deal with "HAND CHECKING" and contact defense.
BTW, here is a list of other players that he had to play.
Great Centers That's Better Then Today's:
Shaquille O'neal
Hakeem Olajuwan
Patrick Ewing
David Robinson
Alonzo Mouring
Mark Eaton
Dikembe Mutombo
and etc.
Forwards:
Karl Malone
Charles Barkley
Larry Bird
Larry Johnson
Chris Mullin
Danny Manning
Cliff Robinson
James Worthy
and etc.
Guards:
Bernad King
Tim Hardaway
Isiah Thomas
John Stockton
Joe Dumars
Gary Payton
Kevin Johnson
and etc.
MJ did play in a tougher era and i'll tell you why: they played more phisical back then and there were waaaay less fouls called. Guys would push and shove and hand check and everything like that. Everytime someone breaths on Kobe it's called a foul now. And everything you mention is true too so MJ did play in the tougher era

Source(s): Wade 4 Mvp

It look like you are answering your own question.

I think the biggest difference is the hand checking rule. The NBA put that rule into effect to increase scoring and I think it helps a lot of today players as oppose to the MJ era.

Also you had more great players and great teams during the MJ era. I would put the list but you catch my drift.

Is there any question. MJ played in the tougher era. He played against such great players with great skill and talent. Plus the NBA is so much softer now. Fouls are being called for almost everything.

Definately MJ's era. Don't forget about the physicality of the game as well. Back then players committed hard fouls and you had to learn to play physical. Nowadays you can get called for silly touch fouls, it's pathetic. And what the hell is wrong with YS.

How do you think about the answers? You can sign in to vote the answer.

mj's era. he wasn't going to be the greatest player of all time if he had weak opponents. kobe on the other hand is in a league where only a handful of guys can match-up with him (lebron,melo, dwayne). plus ticky tacky fouls like handchecks were letgoes back then.

MJ's Era. Only one giving Kobe competition is LeBron & Wade.

MJ of course,king!

how many times do you wanna see from me?

MJ>>kobe

definitely MJ, no doubt about it.. i dont like Kobe..LOL

of course u say jordan ur a kobe hating jordan jocker.
Still have questions? Get your answers by asking now.