R&P Mania! Can you think of any Artists who have started some kind of 'Craze'... like Fashion, Haircuts, Stuff?
I was thinking about the thing with the Beastie Boys and the Volkswagen badges... that 'VW' necklace they wore...
... loads of kids went out stealing those badges 'cos of the Beasties.
i remember doing this as a young teen wouldja believe! until i realised the error of my ways, three of us used to go out at night (i'm talking 13 years old...) and steal car badges... gold was a 'VW' but we never found one, and silver was 'Mercedes' and we got a fair few of them lmao! ...
Interestingly enough, the best info i found was from good o' yahoo!
http://answers.yahoo.com/question/?qid=20080427085...
Can you think of any other 'Crazes' or fashions... haircuts, make- up, repetion of lyrics, catchphrases... you catch my drift... that have started with a band/artist?
http://www.youtube.com/watch?v=XxOG2NE2gmU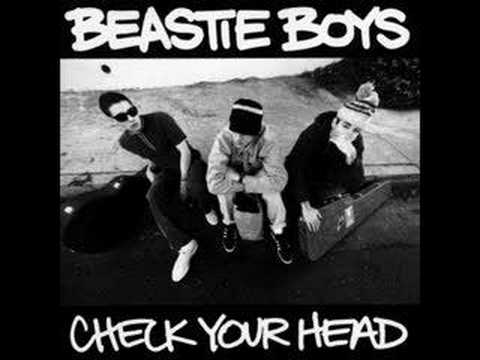 Update:
Howard Stern! i loved your film! i still do that trouser thing!
Rockers/Strummers of the 50's like Elvis Presley, Johnny Cash etc. got the Pompadour hair craze going for a while then it died off for a while, but then it got to be a big craze again for Elvis impersonators & when the first wave of Psychobilly craze in England got big in England with bands like Demented are Go & the Klinglonz, which combined the Pompadour style with a Mohawk so it got big again including the variation of Mohawk Pompadours for a while & the Elvis impersonators are still going strong including with the jumpsuits with the rinestones & bellbottoms.

Speaking of which--when Joe Strummer watched Taxi Driver & decided to get a mohawk, mohawks got popular with Punk rockers, in fact I've had a mohawk about 2 or 3 times in past years.

Bauhaus got the vampire Goth look popular with Goth music fans, after Bauhaus put out "Bela Lugosi's Dead" & other Goth tunes, even though it was sort of around somewhat before musically with Black Sabbath, Alice Cooper, Misfits, 45 Grave & Christian Death, but it was Bauhaus that got the look popular with Goths to this day. Part of it had to do with the fact that Bauhaus' "Bela Lugosi's Dead" song was in a vampire movie with David Bowie, Susan Sarandon & Cathrine Deneuve called "The Hunger" which is a film that is definitely a cult film classic, in fact that film adding new twists to vampire stories may have also helped readers to Anne Rice's vampire novels which those novels brought 2 more vampire stories to the movie screens also, which are "Interview with a Vampire" & "Queen of the Damned", so in an indirect way David Bowie had a bit to do with that because of "The Hunger", but it was definitely more especially Bauhaus because of that song which had the most impact, because a lot people who aren't huge Goth followers & who don't know much Bauhaus usually always remember them for that song. In fact a large beverage company knew recognized the impact & appeal of that song, so they approached Peter Murphy about using Bauhaus' music for a commercial. It was over using a song in a commercial that was one of the things that got their band in arguments. So the very thing that started a trend may have also contributed to-- if not started--the breakup of their band.

Speaking of Alice Cooper--Alice Cooper started the idea of Shock Rock but since then it's gotten to gross heights with guys like GG Allin.

Here's one that scares me--The Osmonds started a trend in pretty boy bands with absolutely NO music substance *Shutter*

Login to reply the answers

I remember in the late 80's a British boy band called Bros started a short lived trend when they attached Grolsch bottle tops to their shoes.

Login to reply the answers

Dead of Mayhem supposedly started the use of Corpsepaint in Black Metal. (

I have my doubts about this one.....seems like some older, lesser known bands could have started it)

Now, black metal bands and fans all over the world use Corpsepaint...

The band Venom opened the door for many bands to use Satanic lyrics and imagery....

I think what Alcest is doing will have more bands try the up-beat, "shoegaze" sound in metal....

Login to reply the answers

Ziggy Stardust's and Marc Bolan's flamboyant wardrobe started the Glam craze.

Login to reply the answers

How do you think about the answers? You can sign in to vote the answer.

Billy Idol had a lot of kids cutting their hair spiky and dyeing it platinum blonde (yours truly included)

Judas Priest and Iron Maiden popularized wearing spandex pants and studded wristbands (gah..what I must have looked like in high school... no wonder I had no boyfriends)

Login to reply the answers

Login to reply the answers

They need to get an effing medal and a legal holiday named for them.

Login to reply the answers

Richard Hell and safety pins/ripped clothes.

Login to reply the answers

remember Chris Cross those kids who started the fad of wearing their cloths backwards?

I can't believe that did'nt last longer.....

Login to reply the answers

Madonna had all these girls wearing multi-bracelets, huge bows in their hair & the kitchen sink.

Login to reply the answers
Still have questions? Get your answers by asking now.