What do you think of Eduardo's sweet revenge tackle on Taylor ?
http://www.youtube.com/watch?v=X0uKMx0qcIM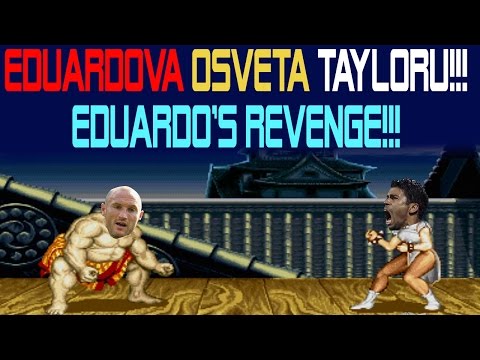 &feature=related
Lol
FQ : Do you think Eduardo Da Silva will come out as a stronger player for Arsenal, some people say that he will never be the same I don't agree with that but on the back of my mind I think it'll take a while for him 8 or so months without any football is tough for any footballer. Opinions ?
No comment on the video - bad memories from when it was the other way round. :-(

FQ: I agree, he's not going to be 100% match perfect until at least the new year, but lets hope he's back to how he was before the accident asap and is scoring plenty of goals for Arsenal very very soon.

Login to reply the answers

Hey,that's an XBOX or Playstation game.As for your other question,Eduardo will slowly grow stronger when he returns.Remember what happened with Rooney two seasons ago when he returned from a metatarsal injury followed by suspension?He had a month-long goal drought before hitting a hat-trick away to Bolton.Man United won the game 4-0.Rooney went on to score 23 goals.Similarly Eduardo can make an impact as a back-up player for van Persie and Adebayor.

Login to reply the answers

Lets hope Martin Taylor dosen't find him again lol

it's hard to say , we can't give an opinion if he will be better or worse because after a leg break as an injury most players are lucky to come back what so ever

but if Cisse can have two leg breaks and come back , Eduardo can come back too

Login to reply the answers

Blatter's comments weren't directed completely at Taylor yet as a warning to all gamers who ought to think of of committing certainly one of those foul interior the destiny. of direction Blatter needs to handle the placement on the grounds that he's the FIFA president. keeping out of the difficulty ought to easily harm FIFA's attractiveness as a governing physique. it is trustworthy to assert the foul replaced into certainly unintended and there replaced into no malice in contact. And Taylor would have already found out his mistake and would stay with it. Take no longer something of Blatter's comments. Taylor made the foul and have been given his pink card. That case is closed. Blatter's comments have been basically made as a deterrent to different gamers interior the destiny who now ought to think of two times in the previous making certainly one of those horrendous handle. Blatter's comments are trustworthy and tactfully suggested.. good guy...

Login to reply the answers

How do you think about the answers? You can sign in to vote the answer.

to me...

he will be back..

but it takes time for a sports player to get back to his original form..

for example now..

cristiano ronaldo is not playing at his usual pace and form but he is still cathing up...

i think eduardo will be back but it takes time and more games for him..

just look at rooney.. he has been an injury prone boy! and now he is back!! lol.. i am a man utd fan from asia btw..

playin him in reserves its a great idea to build his early fitness...

my last answer is yes.. he definitely will be back haunting defences...

Login to reply the answers

It may not happen in real life.

I agree with u

Login to reply the answers
Still have questions? Get your answers by asking now.