Does Sarah Palin promote sussession of Alaska from the United States?
Before you answer, watch this...
http://www.youtube.com/watch?v=ZwvPNXYrIyI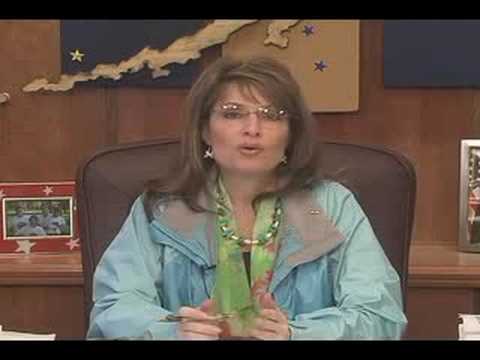 No, she doesn't. The Alaskan Independent Party wanted to have a vote that would allow them to secede. Her husband was a member of the party for a couple years, but never participated in any of the AIP events. Sarah never was a member of the AIP nor did she come out in support of Alaska's secession.

Login to reply the answers

Please spread this video everywhere. It does more good for her than harm. Did you even watch it? She says nothing what-so-ever about wanting Alaska to succeed, but does say that she stands for tolerance and diversity. Perhaps the obamabots could take a lesson from this video instead of sticking their fingers in their ears anytime someone disagrees with them. I think all you read is the video title and didn't even watch the video like the ignorant ideologue that you are.

Login to reply the answers

No. Alaska gets the highest return per capita in federal funding and would be a financial basket case were it not for its statehood. The image of rugged independence is baloney.

Login to reply the answers

C'mon dude. Why would she work with the lower 48 in establishing a pipeline if she didn't want her state to have ties to the US?

Login to reply the answers

How do you think about the answers? You can sign in to vote the answer.

I would.. look how she is being treated by everyone on here. Like Alaska isn't even a state worthy of being in the union. I would want to cede too

Login to reply the answers

Rick Sanchez just had a long segment on CNN about the Palins connections to the AIP and the John Birch Society.....it was pretty interesting.

Login to reply the answers

Yes. All I know is if Palin were a democrat, Limbaugh would say that Palin hates America and hates everything our forefathers risked their lives for.

So, I'm going to give these GOP supporters a taste of how illogical they sound.

Login to reply the answers

Probably not.

At least not at the moment, if she ever did.

Who cares? My problems with her are so numerous and serious, that this pales.

Login to reply the answers

Nope. And the word is secession

Login to reply the answers

Should we trust someone from a state so close to Russia? (Just kidding.)

Login to reply the answers
Still have questions? Get your answers by asking now.