Besides Biden the democratic drunk does Obama have any normal friends in politics or are they all radical?
Barney Frank, Reid, Pelosi, Chris Dodd are not normal
Update:
How is this a rediculous question? Bush and McCain DO NOT get along ....maybe you are all too young to remember 2000
Update 2:
kennedy is his friend?
http://www.youtube.com/watch?v=3YaRpx3LphI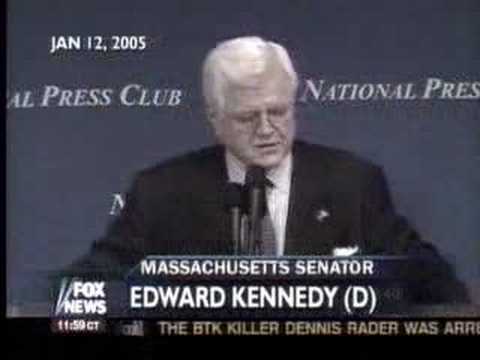 Update 3:
Anyone notice the biggest swings are in states that ACORN are in and now getting busted by the FBI.
http://uk.youtube.com/watch?v=Z5z9lD4C2I...
http://uk.youtube.com/watch?v=Z5z9lD4C2I...
http://www.youtube.com/watch?v=k1UwIOqNx
...
What is sad is NO ONE has to make these idiots look bad just watch and listen and please look up the facts! It is not your fault the media will not lay the actual facts out there for you. This is OUR COUNTRY not theirs TAKE IT BACK!
Fylyier most of what you said is totally debunkable and is on solid record..UNLIKE ANY OF Obama's items....
Biden is not his friend.

Biden said that Barack Obama is unqualified and that he would rather be McCain's running mate.

Login to reply the answers

McCain has been associated with far more extremists than Obama. Why aren't you asking about that?

G Gordon Liddy, one of McCains real pals is a convicted terrorist, and Watergate burglar, who also advocated kidnapping anti war protestors during the 1972 Republican convention, to keep them from staging protests.

McCain has been linked with other extremist hate groups.

One of McCain's biggest backers is Ralph Reed a worm of a man who should be in jail with his cohort Abramhoff, with whom he conspired to cheat taxpayers and Indian tribes out of hundreds of millions of dollars. The worst of it is that Reed hides behind religion to do his dirty deeds, including his racism.

What about the extremist religious leaders who back McCain, like Hagee and others.

The entire Republican party is so far to the right that it isn't even recognizable anymore. And then they rail against liberals as being too far to the left. The overwhelming majority of extremism is on the right at this time.

Nixon was a liberal compared to today's conservatives. And much more so was Ike, former Allied Commander of Europe in WW2 who spoke to the country about supporting working people and being wary of the military industrial complex. Now we have an administration who IS the military industrial complex and who has no interest in the struggles of working people, instead bestowing favors on the richest 5% and the corporations that make up the military industrial complex

Obama understands that it's the workforce that is the engine of the economy, not the capital of the rich.

All we are asking is that that engine of the economy get it's fair share, something Republican's seem incapable of understanding

Login to reply the answers

Senator Kennedy endorsed him. You forgot he has a brain tumor? What is McCain's excuse for calling his wife a trollop and a (think punt with a c instead of the p)?

You forgot McCain had a great friend named Keaton?

McCain said he stood up to the Bush administration about torture-but he voted no to any over sight of the interrogation process. The record of that vote is at Votesmart.org under Military Issues.

All of the issues against Bush in 2000 McCain has since reversed. He once opposed off shore drilling now he favors it.

McCain went to Iraq and came back and lied about the conditions there.

http://www.youtube.com/watch?v=GEtZlR3zp4c

Login to reply the answers

What about Seantors Lugar and Coburn? Jim Webb? You may not like democrats, but can you honestly speak ill of Senator Webb?

Not that I don't find your premise ridiculous, of course.

Login to reply the answers

How do you think about the answers? You can sign in to vote the answer.

Obama does not exactly have friends. They do not fit with his personality disorder. People with narcissistic personality disorders are not able to form normal friendly relationships.

Login to reply the answers

No. Like when he was in Chicago only the leftist crazies will do for Obama.

Source(s): Illinois resident sice 1966

Login to reply the answers

Certainly not Bill Ayers!

Login to reply the answers

I don't think he does have any normal friends in politics.

Login to reply the answers

since when do you determine who's normal and who's not?? To be honest, i could care less about your opinion because it doesnt mean anything....

Login to reply the answers

He doesn't even have a normal wife, how could he have normal friends?

Login to reply the answers
Still have questions? Get your answers by asking now.