Palin gave a welcome speech to the Alaska Separatist Party?
Does this mean she's a traitor? Doesn't she love this country?
http://www.youtube.com/watch?v=ZwvPNXYrIyI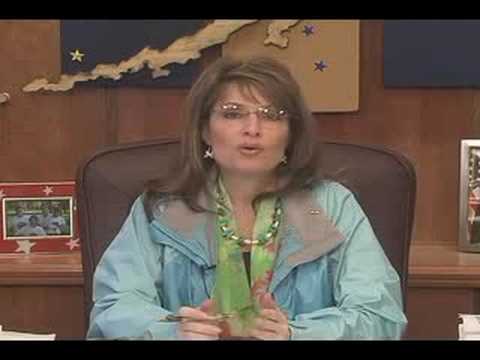 Who's the terrorist pal?

In light of Sarah Palin dredging up old, disproved lies about Barack Obama and William Ayers it is important to remember (and much more relevant) that she repeatedly courted a secessionist group founded by someone who openly professed hatred of the American government, cursed our flag, and wanted to secede from the Union. Sarah's husband, Todd Palin, was a member of this group, which continues to venerate that founder to this day, for years.

As you already know, the group is the Alaska Independence Party, which sees as its ultimate goal seceding from the union. Todd was a member, with a brief exception, from 1995 until 2002, according to the Division of Elections in Alaska.

And there's no doubt that Palin repeatedly courted this secessionist organization over the years. In 1994, Palin attended the group's annual convention, according to witnesses who spoke to ABC News' Jake Tapper. The McCain campaign has confirmed she visited the group's 2000 convention, and she addressed its convention this year, as an incumbent governor whose oath of office includes upholding the Constitution of the United States.

The founder of the AIP was a man named Joe Vogler. Here's what he had to say in a 1991 interview, only a few years before Palin attended its convention: "The fires of hell are frozen glaciers compared to my hatred for the American government."

He also said this: "And I won't be buried under their damn flag. I'll be buried in Dawson. And when Alaska is an independent nation they can bring my bones home."

Vogler has also said: "I'm an Alaskan, not an American. I've got no use for America or her damned institutions."

And while we're at it, how about her preacher laying hands on her and protecting her from witches? How main street America is that?

Source(s): www.americablog.com

Login to reply the answers

Yes I think it means precisely that she is a traitor. And so apparently is her scarily right wing husband, who is the apparent motivator behind Sarah's enthusiasm for the AIP. Her husband is one of its leading lights!! And like all good neocon wives she does his political bidding apparently!! That will be reassuring for the American people to know if she is a heartbeat away from the Presidency!!

Who is this Todd Palin who gets cc'ed on his Governor wife's emails, even though he belongs to a rival political party???

Why have we been told NOTHING of him except he likes to butcher endangered wildlife and have sex with Sarah (probably at the same time. Yuck! Kinky sex Alaska style lol!!)

And what sort of a representative is she who allows this??

If the reform she is to bring to Washington will be the intrusion of unelected swill into the Oval Office, then I will pass, thank you!!

Source(s): I wonder how Pro death penalty she will be when the pea brain finally realizes that Treason is a Capital Crime??? LMFAO!!

Login to reply the answers

If the speech was thanking this organization for bringing their function to the location AND not for support of the organization. Where else would the Alaskan Liberation Army hold their convention in Kansas?

Login to reply the answers

You know, I find it positively HILARIOUS that Palin is pushing the "Obama/Ayers connection" of so many years ago - in spite of Obama repeatedly condemning those radical views - when Palin herself is associated with a radical, Anti-American group that actually wants to secede from this great country. How unpatriotic is THAT?

It's really too ironic for words.

Login to reply the answers

How do you think about the answers? You can sign in to vote the answer.

So I think she is a secret Muslim Terrorist. He attends this terrorist convention. She speaks in tongues (which is probably Arabic...not many arabic speakers in alaska) AND she turned down a ham sandwich that was offered to her!!!

Login to reply the answers

Shes just a six pack mom I like single six pack girls

Obama/Biden 08

Login to reply the answers

I think Palin needs a dose of her own medicine.

Login to reply the answers

is that the clip where she says she disagrees with them

another non-issue that won't fix the economy, won't end terrorism

thank you john mccain and neocons for bringing up ayers instead of an economic plan and the flood gates for this nonissue nonsense

Login to reply the answers

She probably thinks they're from a foreign country.

Login to reply the answers

Maybe that's what she means when she says "Country First"?

Login to reply the answers
Still have questions? Get your answers by asking now.