Whats worse: McCain isn't sure how many houses he has bought, or B.O. not knowing the number of US states?
If you check the video link, it seems B.O. may think there are 60 states in the United States?
LINK
http://www.youtube.com/watch?v=EpGH02DtIws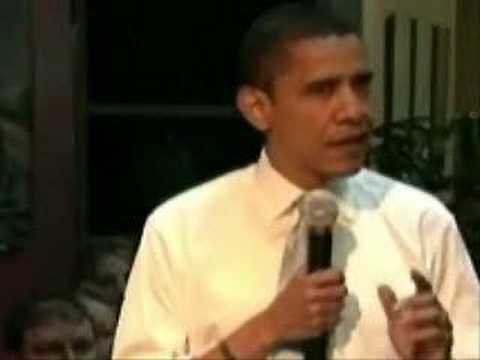 I suspect both of them were tired and made mistakes. Although I've been rather surprised that the media has made so much of McCain having several houses. The other candidates are not suffering. Both are wealthy, with multi-million dollar houses. And Biden owns a compound with several houses for his relatives set in a gorgeous piece of wooded land. There is a long list of wealthy past presidents: JFK (huge money, but really cared about the poor), Johnston, Reagan...and that's only to name a few. But, the houses will probably hurt McCain more than the slip up of B.O. making the mistake of the number of US states. I'm not his fan, but I do believe he really knows the number of states.

If people bother to actually look into this, Obama's misstatement was simply the result of being really tired and was the sort of mental glitch anyone could experience. McCain on the other hand seemed to be genuinely ignorant of how many properties he owned, but so what? He's rich, his accountants take care of those details. And in either case, so f**king what? Neither example has any bearing on their ability to be president and that people think this sort of trivia means anything shows how shallow and national enquirerized the media coverage of the election is. I mean, can we talk about the candidates stand on the issues? Isn't that what matters?

Short answer: Neither is "worse" because they are both trivial BS.

Definitely the potential president of the US not knowing how many states there are. I don't know how the number of homes a person owns can have any relevancy as to what kind of president he'll be. I would rather elect someone on their merits rather than on the number of homes they own. I would want my president to know each and every one of the states that he is presiding over, inside and out. If you don't know how many there are....how can you appropriately preside over them?

McCain at the Gates of Hell. Cindy sold Budweiser to Belgium.

i find those 2 things alone to be worse than Obama's mess up on States.

i do not want to go to the gates of hell, and i have drank Budweiser for a long time and i am ******* pissed my money is now being turned into euro's. **** the McCains'

How do you think about the answers? You can sign in to vote the answer.

I don't like either one but at least McCain is not a danger to his country

I am possitive I heard him say 50 states.

How could anyone like McCain? that is what I really want to know

they both suck, period. i like paris hilton better. j/k.
Still have questions? Get your answers by asking now.