Why Did The Republicans PREVENT Sen Obama from Visiting The Injured Troops in Germany?
This is rich -- and disturbing.
The very Pentagon leaders that do not take care of the wounded troops, see this post below, prevented Barack Obama from visiting wounded troops in Germany. The Pentagon claimed Obama's visit would be political. He's a United States Senator for Christ sakes. Blocking Obama's visit is politics. Who at the Pentagon made this call? I want names.
Andrea Mitchell explains: http://www.youtube.com/watch?v=YyXt2RsNShI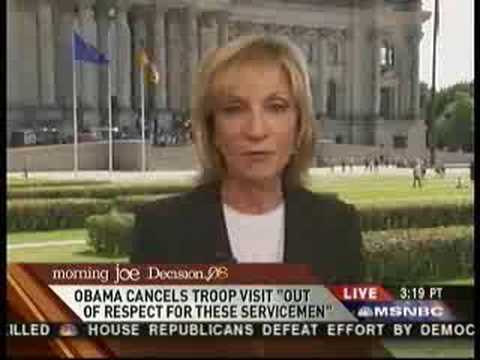 A person or people, not "the Pentagon," made the decision to prevent a U.S. Senator from visiting soldiers. John wrote earlier this week about the Chairman of the Joints Chief inappropriately injecting his views into the campaign. Be interesting to know which Pentagon officials gave this order -- and who was consulted from the Bush/Cheney administration.
For the GOP, "support the troops" is just a political slogan -- and that Bush/Cheney/Rove/McCain crowd uses every opportunity to play politics with these issues.
Update:
Keith Olbermann is gonna CRUSH This Issue tonight on Countdown.. This wont be good for McCain or the Republicans. Stuff like this will turn the American Public against you quicker then.....
Update 2:
Democratic presidential candidate Barack Obama scrubbed a planned visit to see wounded American servicemen and women in Germany because of concerns raised by the Pentagon that the stop at Landstuhl Regional Medical Center could be seen as a political event, according to Obama's campaign
Wow. Thanks for the link. I hope more comes out on this in the coming days...

Login to reply the answers

Obama supporters have NO idea how the government works.

There are RULES that are in effect whether the Dems or GOP are in the White House.

One of them is that government facilities can't be used for political purposes. DUH. Doesn't that make sense????

That's what was wrong with Clinton having campaign contributors in the Lincoln Bedroom. Or the head of GSA briefing political appointees. They get into trouble and they should.

The military said that Obama could visit. OK

Legitimate - he's a US Senator.

His posse of campaign staff - NO.

The media circus - NO

Those were political - NO way to deny that.

The Rules apply to EVERYBODY.

Obama is NOT special, despite what he, his staff and supporters seem to think.

As is often said, IGNORANCE of the rules is NO EXCUSE.

BYW, Mrs. McCain was also denied a visit to a naval hospital ship with a camera crew this week because the Navy decided that it had the "appearance" of a campaign event, even if it was not.

The McCain campaign was not a bunch of CRYBABIES. They didn't complain about the decision.

The Obama campaign should learn how to behave properly.

Login to reply the answers

Senator Obama visited the troops at Walter Reed wellness facility final month; and on a similar time as in Kuwait, Afghanistan, an Iraq on his center East State branch bypass to. The Pentagon curtailed his bypass to on a similar time as in Germany. In as lots; the protection tension and veterans have given Obama of grade B+, while McCain garnished D as a grade. curiously they watch the information and shop up with the balloting information of the Senate and choose helping the GI Webb invoice, whilst McCain did not even take place and vote.

Login to reply the answers

What I read yesterday is that the excuse was this trip was a function of the Senate Foreign Relations Committee (of which Obama is a member) and it was decided any visit to wounded soldiers would make Obama "look good" and that would be injecting politics into a Senate committee's business.

Login to reply the answers

How do you think about the answers? You can sign in to vote the answer.

Now the Pentagon is saying Obama cancelled so either believe the Military or The Messiuh of Ego who is a bit more casual with the truth and can't even write his own speeches Props to Deval Patrick and Bono for making Obama's Eurorant possible.

Login to reply the answers

They didn't.

Statement by Obama's aide (Robert Gibbs): "The senator decided out of respect for these servicemen and women that it would be inappropriate to make a stop to visit troops at a U.S. military facility as part of a trip funded by the campaign."

If it were the Republicans, Obama's campaign surely would have come up with some witty explanation for his change in plans.

Login to reply the answers

Pentagon spokesman Bryan Whitman took issue with Gration's statement, saying that the Defense Department did not object to Obama visiting in his role as an Illinois senator but it did not want campaign staff or the media present.

"The Pentagon certainly did not tell the senator that he could not visit Landstuhl," Whitman said. "The issue here is that if you are both a sitting senator and a political candidate, when you are doing things like a visit to Landstuhl, you need to do it in your capacity as a sitting senator."

Login to reply the answers

Obama's own campaign issued the following statement:

"The senator decided out of respect for these servicemen and women that it would be inappropriate to make a stop to visit troops at a U.S. military facility as part of a trip funded by the campaign," explains Obama spokesman Robert Gibbs.

Stop getting your news from the liberal media.

Login to reply the answers

People like Obama have absolutely ZERO right to visit men & women who have sacrificed for our country in ways they can't even imagine. Don't trash your country & then say you want to go visit the very ones who defend it just for a photo-op.

Login to reply the answers

Oh pleaaaaase, stop with the bull sh*t. The Pentagon does not take orders from a political party. Obama chose not to visit the army hospital in Germany. His schedule was too full.

Login to reply the answers

Does your comments mean that you think Obama and his campaign are liars??

"Senator Obama had hoped to and had every intention of visiting our troops to express his appreciation and gratitude for their service to our country," said retired Maj. Gen. Scott Gration, who advises Obama on national security matters.

"Senator Obama did not want to have a trip to see our wounded warriors perceived as a campaign event when his visit was to show his appreciation for our troops and decided instead not to go," Gration said.

Login to reply the answers
Still have questions? Get your answers by asking now.