God arent these puppies adorable?
http://youtube.com/watch?v=BRYFJiU2zJA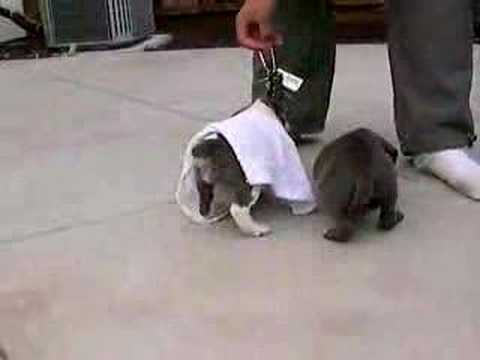 I can watch this video over and over again lol
Update:
golden gal, yeah i definitely saw what you saw, and i would definitely take the black and white on lol
Hi!

yes the pups are very cute but did you see what I saw???

The back and white pups is very out going and friendly, curious but not shy! Willing to leave the human but always watching where they are to make sure it doesn't wander to far away from them. Wags it's tail a lot and at mid hight!

The all black one is shy and reserved. Doesn't wag it tail much and whenit does it is down and slow. Has worried look on it's face and is not willing to explore it's surroundings. Needs to hide, like inbetween the man's legs. Constantly needs to be next to the human doesn't really like to interact with the other pup!

Now which one do you think would be the pup you'd want to bring home???

Look and see if you see what I saw!

Whoa, so cute!

The Blk/Wht female is very impressive, she investigates her world with confidence, really interacts with her human ...her tail wagging all the time... and her overall gate is fluid and flowing. Very nice.

The shy male is a cutie, too. Shy and more reserved, not as sure of his world. but a sweetie none-the-less.

Yea they are especially the all blue opne at 00:27

They are wonderful...I love Staffordshire dogs ( and Pit Bulls )

The little gray and white one with the towel over him is great.

I hope they find a wonderful home full of lots of love.

How do you think about the answers? You can sign in to vote the answer.

awwww. I love watching videos of little puppies. They have a lot of cute husky ones.

I have lots of my puppy in videos on my youtube account xD

Awww! I'd love to adopt one in a few years! They are gorgeous!

Yes!

Look at those wittle butts, and tails, and noses, and ears, and bellies..

OMG, they are so cute. I could wtch that over and over too.

Yes, they are cute. Sorry, I have the wrong attitude.

YES!! THEY ARE SO FRIKIN CUTE!!!!!

Wow, that was creepy.

I think I answered this question perfectly!
Still have questions? Get your answers by asking now.