Do you think a Democrat would have the guts to say this again?
Take note that JFK said this to the Greater Houston Ministries.
Imagine a Democrat going to a Southern Baptist Church and stating "I believe in an America where the seperation of church and state is ABSOLUTE".
"I believe in an America where the separation of church and state is absolute--where no Catholic prelate would tell the President (should he be Catholic) how to act, and no Protestant minister would tell his parishoners for whom to vote--where no church or church school is granted any public funds or political preference--and where no man is denied public office merely because his religion differs from the President who might appoint him or the people who might elect him."
Update:
I believe in an America that is officially neither Catholic, Protestant nor Jewish--where no public official either requests or accepts instructions on public policy from the Pope, the National Council of Churches or any other ecclesiastical source--where no religious body seeks to impose its will directly or indirectly upon the general populace or the public acts of its officials--and where religious liberty is so indivisible that an act against one church is treated as an act against all."
- JFK, Address to Greater Houston Ministerial Association, 1960
http://www.jfklibrary.org/Historical+Resources/Arc...
VIDEO OF THE SPEECH
http://www.youtube.com/watch?v=iDP4qrA8hvg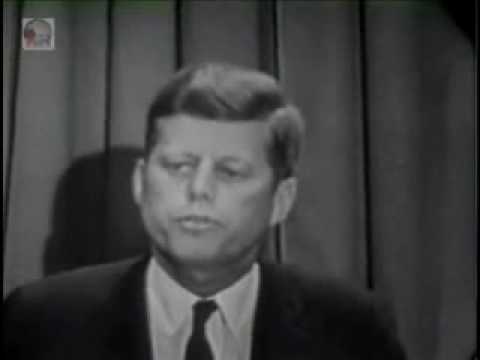 Update 2:
sam,
I WISH a Democrat would have the guts to say what JFK said.
Update 3:
Imspence,
I would say it too, but yet I was talking about a Democrat running for office.
It's a sad day when people like Pat Robertson say "seperation of church state is a lie of the left."
Thomas Jefferson believed in it. James Madison believed in it, as did JFK.
No politician, of either party, would state that today.

As far as ministers or any clergy "telling" their congregations who to vote for, that is against the law and they can lose their 501(c)3 status. It's okay to compare candidates on different issues, but a church body cannot endorse a candidate.

Login to reply the answers

Honestly not until a person of another religion is elected into office again. JFK was a special case, and if you remember he was the first Catholic president of this country. His ideas were good ones, but really they haven't been continuous for one simple reason. The country's turned an entirely different direction, and until someone pushed back the other way, we cannot hope for change.

Login to reply the answers

Why not?

I think I agree with what JFK said. A church shouldn't dictate what believers should do, who to vote for, and how to behave. A church doesn't have to directly order such things, if the believers are true to their religion, they would do the right thing on their own initiative inspired by the church.

Religion should not be the only deciding factor in the elections.

Login to reply the answers

the total committee changed into set up for the express purpose of failing. Democrats were no longer likely to budge on their spending and republicans were no longer likely to take protection force cuts or tax will improve. It amazes me that 12 were meant to come back up with something that 335 ought to no longer. it is all a democratic tactic to blame republicans back. Democrats can no longer run on any record so the in effortless words situation they have is blame and own assaults.

Login to reply the answers

How do you think about the answers? You can sign in to vote the answer.

That was an election speech. Kennedy was the first (Roman) Catholic presidential candidate and was trying to allay the fears of the electorate that somehow the Pope might influence a Catholic President.

Given that the present President claims God told him to make war on Iraq, it seems JFK's message died with him.

Login to reply the answers

Excellent Point! And I wish that a modern Democrat could step forward and pronounce "Ask not what your country can do for you...ask what you can do for your country!" JFK.

What the H** happened to Teddy? Wasn't he raised under the same beliefs as was JFK?

Login to reply the answers

JFK as a Catholic would never be a DummyRat now given the 50 Million babies they have helped to slaughter.

Login to reply the answers

JFK was a pretty crappy President, most of the time. But he had big brass balls... I'd be quite pleased to see a Dem make the same stand on religion. I'd be even MORE pleased to see a Repub make that stand.

Login to reply the answers

Many Dems (like me) speak like that all the time, but those running for office cannot say those things for fears of igniting the "religious right" against them, along with threats and harrassment. Then a fascist will win that position, and what good could come from that?

Login to reply the answers

It's sad, but i don't think any politician around today would have the guts to say something like that today... =/

Login to reply the answers
Still have questions? Get your answers by asking now.