Why does Barack Obama have an aversion to the American Flag?
http://img.timeinc.net/time/photoessays/2007/harki...
http://youtube.com/watch?v=J2La7lBKS6U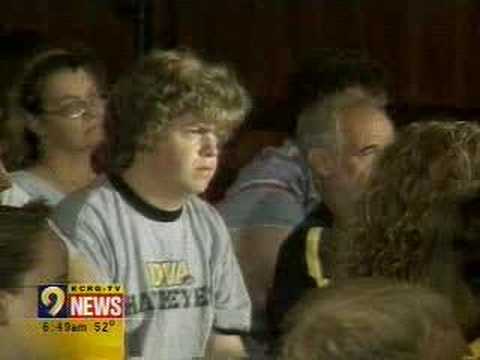 &feature=related
Update:
I have heard veterans say how disrespectful of him, they fight for HIS right to be disrespectful to the flag, I was talking to a group of older Vietnam Vets and they were really mad about it....
I am wife of Vietnam combat vet, (hit twice, shrapnel still in body), saw friends blown up, etc. He STILL has nightmares and wakes me up shaking........

I don't understand why the disrespect for the flag, which is emblem/banner that was designed to remind us of how America became Amercia.

The only thing I can think of is that it is common practice for some mexicans to fly the mexican flag on the same pole of the US flag, with the US flag hanging upside down and BELOW the mexican flag. (The whole ReConquista lie). Barak MOHAMMED Obama knows the illegal alien invasion (especially mexican-American border) will surface again and he wants Hispanic vote. Not as subtle as he thinks.

He is trying to alienate himself from true patriots and "suck up" to the Mexicans who force their culture, language, etc on American schools, hospitals, all institutions. He is gearing up for North American Union, and wants the Hispanic vote.

The same democrats who accuse President Bush of selling out are actually bigger sellouts.

IT IS HIS NOT-SO-SUBTLE WAY OF SAYING "I SUPPORT ERASING ANY REMINDER OF AMERICA AS A SOVEREIGN NATION AND THE BLOOD AND LIVES IT COST OUR MEN AND WOMEN. DENYING THE FLAG IS A PATHETIC ATTEMPT TO DESENSITIZE AMERICAN PATRIOTISM IN PREPARATION FOR NAU (amnesty for illegals, anchor babies.....you know, the democratic way).

Yes, President Bush started this and I am disappointed in him, BUT THE DEMS LOVE IT AND PLAN TO TAKE IT ALL THE WAY unless the true Americans stop him. Scary, isn't it?

EDIT TO SDVWALLI.... Yes, my husband is upset about this. Not too long ago a Veteran took his army knife and cut down a mexican flag in Nevada that a mexican bar owner had flying above the American flag. It was on Nevada local news. You see it Y-tube, plus he was interviewed. You won't hear about that in world news.. And by the way, Vietnam soldiers did not lose, the gvt did,,,, they would not allow the military to fight the war, the political powder puffs played footsies under the table and put restraints on military!

Source(s): www.usflag.org - 18k - Cached

Login to reply the answers

As for the Vietnam Vets, Ann Coulter said of them 'no wonder you guys lost!' Are they angry about that?

So long as we allow ourselves to be manipulated with such meaningless things as to whether someone buys a pin that is made in China depicting the American flag, we will continue to lose our liberty.

By the way, I'm not voting for him for other reasons. My candidate, Chris Dodd, is closing in on that magic 2%. Yippee!!!!!

Login to reply the answers

Because it's not about the flag, what it stands for or even about America. It's about the power. This guy is another John Kerry. No body knows anything about him. I think that making him the nominee will be a huge mistake for the Democrats and an incredible break for Republicans.

Login to reply the answers

Well screw any fascist vets who think wearing an American flag pin is required in America.

We aren't slaves. We aren't mindless "flag worshippers".

People express their patriotism as they are comfortable with it, and that's the end of the story.

Some lousy ten-cent pin made in Taiwan makes you 'worthy' to be an American?

gimme a break. We aren't that pathetic, are we?

Login to reply the answers

How do you think about the answers? You can sign in to vote the answer.

i think he feels the way it has been used to show support for the war has been misguided, i, as a good american can see his point, i have served in the military,i vote etc. i think he feels these symbols of freedom are being used for purposes other then what they stand for ,or what the founding fathers thought america should stand for, he explained it well.

Login to reply the answers

So, you would rather elect someone who starts wars based on the flag? Bush has done more to harm the flag than simply not saluting it before the music even starts.

Login to reply the answers

Because Obama is a DISRESPECTFUL TRAITOR in Candidate's clothing.......It is a DISGRACE to even consider than this man could lead a Country which he holds so little respect & regard for.

Login to reply the answers

I have no idea,but I can only guess. And my guess is that he is UNAMERICAN!!!!!! And he should be ashamed of himself,

Login to reply the answers

He doesn't. He has an aversion to doing what people want him to do simply for the sake of appeasing them. Good for him.

Login to reply the answers

Wearing a flag pin is mandatory in Amerika.

Login to reply the answers
Still have questions? Get your answers by asking now.