Ron Paul on Meet the Press?
McCain-http://www.youtube.com/watch?v=Ajm5JTf7jZs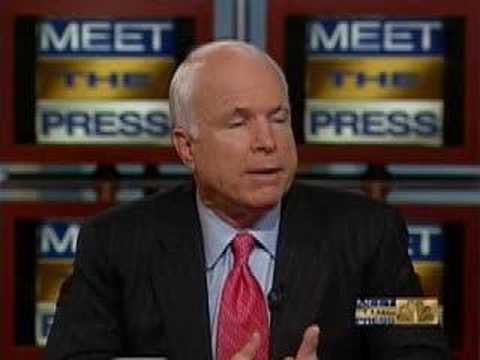 Ron Paul-http://www.youtube.com/watch?v=saDw03JXigA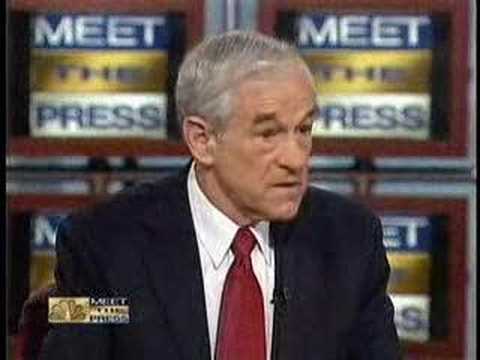 Gulliani-http://www.youtube.com/watch?v=oxtPqQHo9k4
Romney-http://www.youtube.com/watch?v=YVGZQya_KFI
&feature=related
Thompson-http://www.youtube.com/watch?v=2kLBQ2YXe-8
Compared to the other candidates, Dr. Ron Paul looked like Einstein. So why do people like to bad mouth him over one interview
x z: when you call other ppl 'brainless', you risk being a total idiot when proved incorrect. There are plenty of news regarding Israel asking for US support against Iran.

Here's one: http://ap.google.com/article/ALeqM5iJZ9jtm0mjZovx5...

You sir, are a dumb-***, not for being ignorant, but for accusing other people being ignorant when you are.

I agree Ron Paul could have been more prepared in the interview, however, he managed to get his points across regarding his platform. I think it's ridiculous to hold on to one or two interviews and decide upon that. Just understand the candidate's platform, and review how they've voted in Congress. Look at the numbers, Ron Paul has got the most funding from active-duty military. There must be something right with his foreign policy when people who are actually involved in the war are supporting him.

Login to reply the answers

Are you kidding me? i does not omit it for the international!! Russert grow to be annoying on Romney, that's going to be BRUTAL with Ron Paul!! i grow to be going to bypass to the flicks as we talk, yet i think of I purely stumbled on my entertainment for the day.

Login to reply the answers

One thing to his advantage is that Dr. Paul does not seem to lie so naturally in comparison to Romney or Rudy he would look better.

Being truthful is not enough to make him look like an Einstein. Considering some of the company he keeps, he might not consider that a good thing either.

Login to reply the answers

Ron Paul Defends EarmarksRon Paul was on Meet the Press and he had to defend himself against accusations that he put earmarks (pork to the rest of us) in bills while in Congress. Paul claimed that he never voted for an earmark and that he only put them in the bills because some of his constituents were asking for some of their money back. He said that he does not like the tax system but that does not stop him from claiming the deductions to which he is entitled because he wants his money back, just as his constituents do.

I am no fan of earmarks and I think the whole process should be done away with. No one from Congress should be allowed to add anything to a bill. Our tax money should not be getting thrown around to build bridges that help 200 people, build planetariums, or fund secret and usually non existent companies (Jack Murtha). No bill (especially a spending bill) should ever be introduced unless the Article and Section of the Constitution that authorizes it is cited. I find it odd that Paul would insert them and then vote against them.

If he wants his constituents to have their money back then why would he vote against the earmark? If he intended to vote against it then why add it in the first place. I'm sorry but this sounds a bit fishy to me. Paul is supposed to be the guy who keeps watch on such things so it is disheartening to find out he is involved in the process. Maybe his views are not as absolute as he would have us believe.

Paul is a long shot to win so maybe after he loses he can go back to Congress and keep introducing bills that take away the earmark process. Until all earmarks are gone I don't want to hear Democrats or anyone else tell me that we are in debt because of George Bush or the Republicans. We are in debt because all of them have no control and they spend our money with little regard to the huge debt they are causing.

Earmarks must go before we ever discuss ending a war or how much war costs. Evidently, we are doing well if they can throw money around.

Ron Paul needs to get this fixed, are start voting the same way he talks.

Login to reply the answers

How do you think about the answers? You can sign in to vote the answer.

In my opinion it is because the majority of the people in this country have bought into the Bi-Cameral (Two Party) System that we use to elect our Presidents and don't realize that they have another choice beside the old party line. The public school system in this country has done it's job well, that's where the true "brainwashing" really begins.

I just wish that I was at level 2 so I could point up nighthawk. He has the correct and best answer. 10 points thumb's up, hands down!!!!

Login to reply the answers

'ronpaul' looked more like 'rain man' compared to the other candidates-he flipped, he flopped, he stammered, he babbled-denied his own past statements, even when quoted directly, was mostly incoherent...it's best he keep his campaign strictly on the internet; saves him from embarrassing himself even further...stick with the crackpot conspiracy theories...that's 'ronpaul 101'

Login to reply the answers

Einstein. LOL..hahahaha..hehehe. Ron Paul. HAHAHA.....HEHEHE. Oh God your funny. hehehe. Ron Paul Looked like an Idiot on Meet the Press. Is didn't even know how many troops we had in Iraq. Tim Russert tore him up. I also heard after that taping of Meet the Press Ron Paul went back to look for his A**hole since Tim Russert tore it right out of him on all the issue. Did you say Ron Paul?Hahahahaha. Now That's funny hehehehe

Login to reply the answers

Login to reply the answers

Ron Paul is a threat to the Federal Reserve, the

IRS, the CIA and the drug trade (which is the same as

the CIA). He's anti-Bush family (the unanonited

royality of American society), a threat to the

national security state, a threat to the lucrative big

business connections within our government and a

threat to the military industrial complex. He's anti-imperialist

war and he wants to stop funding Israel.

It isn't the American people that bad mouth Ron Paul, it is the American propaganda machine representing the ruling elite whose interests Ron Paul threatens that bad mouths him. The American people love Ron Paul.

Login to reply the answers

I think he looked like Hitler with some of his irrational behavior and downplaying the violence of his supporters.

Login to reply the answers
Still have questions? Get your answers by asking now.