1999 Martina Hingis vs. Serena Williams - War of Words?
Do you guys know the reason for this War of Words between Hinigs and williams?
I found it on youtube and it just stuck in my head.
http://www.youtube.com/watch?v=s3uY3wesJmQ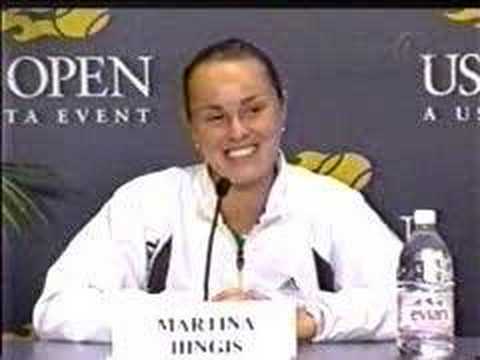 &mode=related&search=
I think it all started with papa Williams shooting his mouth off that his daughters are so great and that it will be an all Williams final at the 1999 US Open. So when Martina Hingis beat Venus in straight sets and had to face Serena in the Final the press were asking her some questions to which Martina said that it was 3 against one whenever anyone played a Williams but in her case she has nothing to worry about because she doesn't get into petty verbal arguments she settles on court where she has the #1 ranking.

NEW YORK -- Martina Hingis and the Williams sisters engaged in their fair share of verbal warfare before calling a truce last week and Hingis has no intention of igniting the feud.

After beating Venus Williams in the semifinals and preventing an all-Williams final, the Swiss teenager did her best to answer questions diplomatically.

Asked if she had additional incentive to win the match after Serena Williams earned a berth in the final, Hingis replied, "They're three against me. With talking, I can't beat them. I know that."

Hingis was referring to the Williams sisters and their father, Richard, who boldly predicted an all-Williams final.

"I just go out there on the court and try to beat them," Hingis said. "That's all I can do. I don't want to fight with words. I can't beat them with words."

But when asked if she feels slighted by comments made by Richard Williams, Hingis fired a brief salvo.

"I'm not going to say that because the results and the rankings show it all," said Hingis, the No. 1 player in the world.

Although Serena shouldn't have responded, Martina Hingis like so many other players in the women's game have always been and forever will be jealous of both Serena and her sister Venus. Serena and her sister have been an incredible change for a sport that could not and still doesn't acknowledge someone of a different skin color.

Hingis probably doesn't like anyone who has a better game than hers (i.e. : Davenport, Sharapova, Henin, etc.) which is why she chose to open her mouth. I think when she starts beating players like Serena and gaining the same perks Serena has, then Hingis can run her mouth and say whatever. Until then, Hingis should just grow up. Her remarks will not scare away any of the game's greatest.

hingis backed off because she is intelligent and realized that you don't try to trap ignorance for you just might find ignorance trapping you everytime///

Both of them doesn't think before they speak so they hurt each other feelings...
Still have questions? Get your answers by asking now.