If CNN is so "Liberal" Why Did They Attack Michael Moore and Embarrass Themselves?
The frequently ridiculous Dr. Sanjay Gupta and the always ridiculous Wolf Blitzer tried to take apart filmmaker Michael Moore case against the failed U.S. health care system this week on CNN's "The Situation Room." CNN embarrassed themselves by misquoting Moore.
http://www.youtube.com/watch?v=JpKoN40K7mA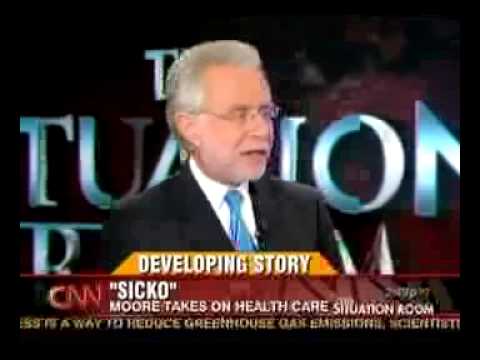 &eurl=http%3A%2F%2Fwww%2Emichaelmoore%2Ecom%2F
Focusing on CNN's on-bended-knee coverage of the Bush administration's pre-war arguments for attacking Iraq, Moore suggested that viewers might have their doubts about the willingness of the network to speak truth to power — in the Oval Office or in the boardrooms of insurance and pharmaceutical corporations.
"You're the ones who are fudging the facts," Moore told Blitzer. "You've fudged the facts to the American people now for I don't know how long about this issue, about the war, and I'm just curious, when are you going to just stand there and apologize to the American people for not bringing the truth to them..."
wait wait wait. Moore and payola Gupta/CNN are all businesses. However, Moore points to the important issues: health care, guns, botched Iraq war etc. CNN is more interested in infotainment to sell their commercial slots, so they feature runaway brides, Cafferty dumbos and Lou Dobbs propaganda ministers, and as someone once said "the idotic and senile Larry King who is the most clueless nursing home patient in TV history"

Login to reply the answers

CNN is not as "liberal" as some on the far-right claim.

Wolf is actually quite a moderate person and really has shown to be fair-and-balanced in his reporting.

Moore needs publicity like a junkie needs the next fix.

Sure, he offers some good talking points, but essentially, it is all a dog-and-pony show designed to bring him more attention.

Fact is, MM plays fast and loose with facts.

In the making of his movie, Moore took his cameras to Cuba but, alas, failed to mention that, according to The World Health Organization, the health system in the USA is better than in Fidel's socialist paradise. I'm sure Moore's oversight was accidental.

The same pattern repeats itself in his other movies.

Since the American public usually accepts what it sees without questioning it, perceptions easily become the new reality...and don't let the facts get in the way of a good story!

Login to reply the answers

CNN did not embarrass themselves. The misquote was very minor, and Gupta admitted right away he made a mistake.

Moore is a nutjob who embarrasses himself every time he opens his mouth. Shouting insults and saying you know more about healthcare than one of the most respected physicians in this country doesn't really help your creditability.

Login to reply the answers

the premise to your question is why is CNN considered liberal......because it is and they have never said they weren't left leaning.....that being said they are also not dumb and completely liberal....2 facts to consider..

1. CNN is a business and they need ratings--in the past few years they have been losing ratings to Fox and as you may have noticed, they have change there formats a bunch including adding a conservative shows like Glen Beck...etc...after all it is a business.

2. The left is smart to distance itsself from people like Michael Moore and the other far left hollywood crackpots...period...

As far as universal healthcare....its a horrible idea for this country, and if you support such ideas you really don't want individual freedoms, you want socialism.

Login to reply the answers

How do you think about the answers? You can sign in to vote the answer.

I think Micheal Moore explained it all best! You better watch the interview again to answer your own question!

Login to reply the answers

Since Michael Moore is already an embarrasment they just wanted to meet him on an even playing field.

Login to reply the answers

Login to reply the answers
Still have questions? Get your answers by asking now.