What did the most ridiculous sign(s) read that you've seen at a game?
I was inspired by this:
http://www.youtube.com/watch?v=7uRLUsq6njQ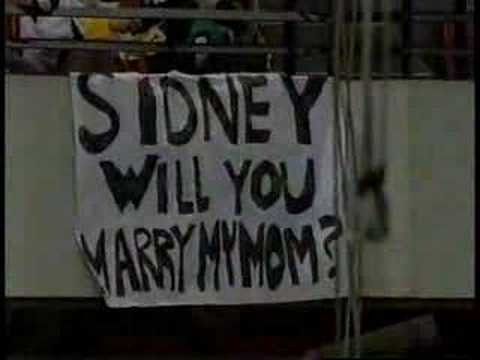 I've seen quite a few ridiculous Crosbymania signs, as to be expected. Lots of "five-hole" references. A few actually had phone numbers on them, not sure if they were the actual numbers of the sign holders, though I'm hoping not. Lol. Then there's the anti-Crosby signs which I consider part of Crosbymania too.
There was a group of guys sitting in front of me the last game of the season, which was Fan Appreciation Night as well as the Player Awards, and they had "LECLAIR FOR MVP!" signs. They were pretty funny guys anyway.
It's hard to recall any spectacular ones, but I know I've seen them! I just have to remember! (I remember simple ones, like "AHH, THE POWER OF CHEESE!" with #20's all over it, for Colby Armstrong, obviously.)
Update:
JENNI - With its gaining popularity, I wouldn't be surprised if there was a documentary on Discovery, "The wild male puckbunny... stalks its prey in a crowded arena..." ;)
JET - I wouldn't mind your bias...if you had at least answered the question and talked about a sign. Lol. Laaame.
JONATHAN - Good comeback. Lol. No sign(s) though?
KIMMY - Um, WOW. Lol. Good share.
Update 2:
DEREK - Ahahaha, I bet Sid gets razzed all the time.
HUNTER - Yeah, that was probably some bitter soul. Lol.
XTRABIGS - That IS pretty devoted...
JK - I'm...sorry. Lol.
WINGS FAN - LOL, I've seen that one! It IS great!
DAVID - ...Good thing the Rags won!
'Sidney, marry my mom' Some little girl was holding it up.

At a Panthers game years ago, a girl had a sign written in Czech for Robert Svhela. It was his birthday. The first line did say Happy Birthday Robert. But the rest of the sign has some crude sexual stuff written on it. As the sign holder was a young girl(teenage). Someone had to playing a joke on her and told her to write that stuff and told her it meant something else. Someone I know talked to her later and that is what she said. We gently told her that that was not what the sign said. She turned several shades of red. Not to mention Mrs. Svhela was not to thrilled with the sign. She attened every home game. So she had a real sour look on her face all night.

Well, I kinda like one I made and brought to an AHL game. Back before Rick DiPietro made it to the NHL, he had a lot of trouble with his skating skill. In one game, he fell down two or three times, and had to hold onto the net to stay up once. So the next game I saw him, I brought a sign that said, "DiPietro, skate much?" I brought it down to the glass right next to him during warm-ups. He saw it and just looked away, though I couldn't see his reaction under his mask.

Probably the best and most infamous (though not intending to be funny) was the fan at MSG during Game 7 of the Cup Finals in 1994 with the sign that said "I can finally die in peace".

The most ridiculous sign I saw was at a Leafs-Pens game here in Toronto. It said "Sidney Crosby's My Baby's Daddy" and then it had a pic of a baby girl on it. I know he saw it because during a TV "time out" Mark Recchi pointed it out to him and the look on his face was priceless. It was the most awkward looking face I've ever seen a person make.

And just for the record, I cant stand those Mrs (insert hockey player's name here) T-shirts. Those things are annoying.

How do you think about the answers? You can sign in to vote the answer.

A male puck bunny had at the game Taylor Pyatt has beautiful; blue eyes..........

oh yeah when we had Stan Chistov ppl would bring signs that said The Power of Andy Mac and Cheese

During the 1996 Playoffs: A Winnipeg Jets' fan held up a large cardboard sign with a small square cut out towards the bottom. Within that square, there were two ping pong balls side to side attached to a string. Above the cut out, there was a caption that read, "Hey Konstantinov, missing these?".

In case no one got it, the ping pong balls were referring to his testicles. Even though I am a Wings' fan, I found that hilarious.

Well i've never been to an NHL game, but i seen this sign on the net awhile back and always thought it was rather funny.

http://www.flickr.com/photos/stork123/300152173/

Not the egg roll one though.

Thats kind of something you would expect at a College game though

during the playoffs we (a whole load of sabre fans) would gather at the arena to watvh the games. there were people along the side of the throughway heading downtown wit signs like "honk if you hate neil" (almost blew my horn out on that one!) "avery sucks" and then there were always two guys dressed like way over the top super heros named captain crosscheck and the cup clinching kid...what was the other one...oh, people started making stanley cups out of towers of keystone bottles lol. i painted my car during the semis to say "honk if you hate ottawa" and then "those who bleed blue and gold never say die" hey, if nothin else, we had fun.

then there were the classics like "may day" and "thank god for satan"

I saw this one where these people were cheering for the opposite team and then these people found out Smyth was playing against the team they were cheering for. And they were fans of Smyth but they never knew he was playing so they quickly made a poster saying "We still love you Smyth!".

I went to Red Wings vs. Preds game and a couple of Preds fans where there w/ their baby. The sign pointed @ the kid and said: "Chelios cries more than I do."

Simply awesome.

The best sign (and fan) in the NHL is the Columbus Blue Jackets Fat Man.

Check it out:

http://youtube.com/watch?v=XXJzTt8O4aY

Easy

Source(s): Intelligence. Youtube.
Still have questions? Get your answers by asking now.