Watch this and tell me what you think of ronaldinho? Best PLAYER ever!?
http://youtube.com/watch?v=3evplsg4Xig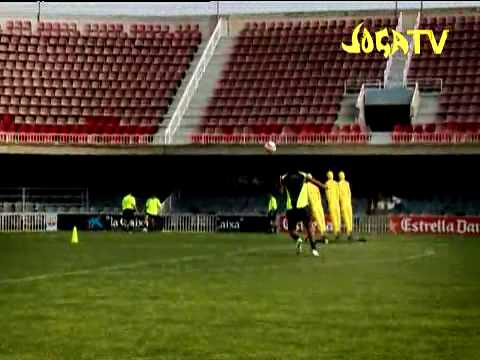 Ronnie hits the crossbar four times in a row!
Hes a magician or just a over over over over talented guy

Source(s): And hes one of the best players to hit this planet.

crossbar challange. he has incredible accuracy, i dont think he's the best player ever. to be considered the best, he needs to produce year after year, he peaked in 2004-2006 but has been slippin a bit. he doenst do so well at the world stage either. maybe this year!

Not yet. Pele and Maradona did what he is doing for a much longer period of time. Last year, Cristiano Ronaldo was better than Ronaldinho was. He even admitted that he had an off year. In saying that though, his off year was better than 99 percent of the players out there.

And all four times he was trying to score!!!

How do you think about the answers? You can sign in to vote the answer.

lol at them talking. that does look messed with.. but its cool anyway

http://youtube.com/watch?v=xeCOMwGIu1Y

&mode=related&search=

as much how cool that is, its fake. they computerized it to make it look real.
Still have questions? Get your answers by asking now.