Do you own a breed that is affected by BSL?
Okay, I am sure that most people know of websites like youtube, myspace, etc. that let people post short videos for other people to view and comment on. Well, I am interested in making a short video on BSL, but to do that I will need some pictures of breeds that are affected by BSL like.. American Pit Bull Terriers, American Staffordshire Terriers, Staffordshire Bull Terriers, Rottweilers, Doberman Pinchers, Shar Peis, American Bull Dogs, Chow Chows, Cane Corso, etc. My husband and I own two American Pit Bull Terriers so, I will be using some pictures of my own dogs as well as some pictures that some friends of mine have e-mailed me. I still need ALOT more though.. I need pictures of breeds that are affected by BSL, but I need cute, sweet pictures.. Like of your dog with children and/ or their family, your dog with other dogs or just pictures of your pup looking cute! Pictures that show how the majority of these dogs are. Again, I will be using them in a video that will be posted..
Update:
on the internet so if you don't want you picture in a video please don't post it. I know this isn't really a question, but I need all the help I can get with these pictures! Once I have finished with the video I will post it so the people that have let me use their pics can see it and let me know what they think! You can post them on here as an answer or you can send me your pic in a message. Any and all picks will be greatly appreciated!! Thanks!! : )
Update 3:
The video will be something like this.. http://youtube.com/watch?v=DwI_qlq5vHs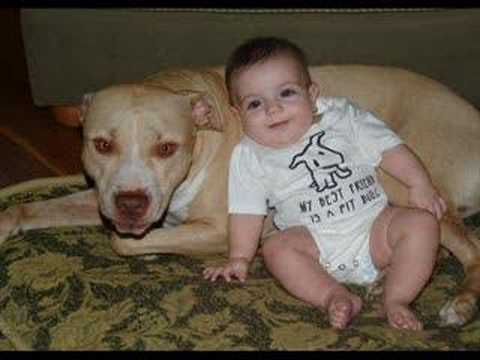 It will be more on BSL then "pit bull" myths though.
Update 4:
In ALOT of places GSDs are affected by BSL..
Update 6:
For anyone that is having trouble posting or sending your pics.. this is how I post and send pics..
-go to www.tinypic.com
-click "browse"
-click on the picture that you want and "open" it
-click "upload now"
-click on the 3rd blue "copy" button.. it says it is for "URL for e-mail and IM"
-just right click where ever you want the picture and "paste" it.
The picture wont show up but a link that will take people to the picture will. You can do that in e-mails, forums, etc.
Update 7:
Surfer_girl_59.. I HAVE done my research.. thank you! I have been doing research on this sinse before I even got my 2 American Pit Bull Terriers. My husband and I have made it our goal to do whatever we can to fight this. Pictures do help.. It helps to show how these dogs really are and it gives these dogs and owners a voice. A picture is worth a thousand words! I am not just making a video for fun and making a video is not the only thing that I plan to do or have done to fight BSL! I am very aware that it is not the dogs, it is the owners, but obviously MOST people are not aware of that.. That is why we have this whole BSL problem to start with. I am sorry that you don't feel like I am helping and I am sorry that you feel I need to do more research. If I hadn't done research, if I didn't know what the real problem was and if I didn't want to help fight BSL in anyway I possibly can.. I wouldn't be doing this! I am very, very passionate about this and I'm doing all that I can to help!
Update 8:
"You're the one who found it necessary to throw barbs at me both privately and, as I see by an added comment to the question you initially posed, publicly." First of all, I wasn't "throwing barbs" at you. I didn't even know what you meant so, why would I "throw barbs" at you. I asked you what you meant because when I read your answer it almost sounded like you were being condescending and to be honest, kind of rude. Everyone expresses themselves differently and everyone takes things differently so, I wanted to ask you what exactly you meant before I got mad, upset or whatever.. I didn't want to start a fight with you, I just wanted to know what you meant. If you feel that I was "throwing barbs" at you because I didn't know how you meant what you posted than I am sorry for that. That was not my intention at all.. I was a little hurt and frustrated when I added the details on the question, but by no means was I trying to be mean. I don't know?.. Maybe you took what I wrote wrong, as I..
Update 9:
I did with your post/ answer. I honestly didn't know how to take what you wrote because that could be taken in a good way or a bad way.. that is why I asked you what you meant. I think if you re read what I sent you, now that you know that I was not trying to be mean, you will see that I didn't say anything inappropriate, mean, rude, etc. As I already said, when I added the details to my question I was upset so, I can kind of understand how that might sound as if I was "throwing barbs" at you.. I was not being mean though, I was defending myself because that is what I felt I needed to do at the time. Like I have been saying, I was not trying to be mean in anyway and I am sorry that you took it that way.
Would you please enlighted some of us ignorant folks as to what BSL is? You may know, but some do not. Thanx

I are living in Central OH and possess three Cane Corsos a G. Dane and a Great Pyrenees. I are living in a township, I haven't begun to have any disorders, however do have matters... residing within the town is wherein you're going to uncover breed bans. in my field no less than. The Presa is baned in a nearby town I are living in. that is the one breed ban. I understand there are organizations that combat BSL in my state. Authority figures must smash the deed and now not the breed! Maybe they must dish out heavier sentences to humans who make the names of specific breeds stained with negativity and aggression. I've rescued an ex-pit fighter yrs in the past (wolf/ Akita combine) I refused to provide the puppy again after he informed me he was once making ready him for fights and had top hopes for him. It mentioned me. Couple weeks later the law enforcement officials busted him and he paid a small excellent and did Little prison time. All the puppies he had was once positioned down. This was once yrs in the past. But no less than I stored one existence. He handed in 2001 on the age of 15. He was once an excessively fine puppy to have, even round my different puppies, he did nonetheless dislike the neighbor's puppies however you're going to have that.

I share my life with Doberman Pinschers. So I'm in this group. However, I'm not sure why you think pictures can help.

Perhaps you should do some research. If you do, you will find the courts are now hearing arguments against many of these types of laws. For example -- search for Case number 2006-0690 at Ohio Supreme Court's Public Case Inquiry.

Bottom line -- I take responsibility for my dogs. I often recommend others who think they know my dogs and are free to pet them take the same responsibility for themselves. People are plain NOT allowed to pet my dogs anymore unless they are in my home and REALLY know my dogs.

The problem here is not the dog -- its the human beings.

___________________

Received in e-mail from pitbullmommie122106

Subject: hi..

Message: I am not quite sure how to take your answer. Telling me that I need to do my research makes me feel as if you are accusing me of not knowing what I am doing or talking about. I have done my research and I continue to do research every single day. My husband and I own two APBTs that have both been properly raised, trained and socialized. We are very, very, very responsible, respectful owners and we will do anything we have to do to fight BSL. I get a news letter by e-mail every time something comes up that I, as a dog owner or so-called "dangerous" breed owner, should know about. I have written and continue to write letters to cities, news papers, news stations, etc. I have gotten together a group of people that feel the same way I (and many other people) do and we have dedicated ourselves to educating people on these breeds and encouraging them to do the right thing and fight against BSL. This video is just an extra thing that I am doing to give other dog owners and dogs a voice! As I said to start with, I am not sure how to take what you said. I would really appreciate it if you would explain what you meant.

Thanks,

-Kim

-- Let me attempt to explain myself. First, I am accusing you of nothing. You're the one who found it necessary to throw barbs at me both privately and, as I see by an added comment to the question you initially posed, publicly.

Secondly -- were you aware there are several state courts that have started to reverse this movement? That was all I was trying to point out to you -- and softly suggest that you may want to work that angle as well.

Third -- I'm pleased you are taking action to let individuals know this is not a dog/breed issue. However, as stated, there is much to be gained by knowing what is happening in the judicial arena and leveraging that knowledge to your advantage.

Finally -- I too am big on proper training and socialization. However, I also live in reality. The best trained dog can, and likely WILL, react to some kid in a park slapping its head in what the rug-rat (and their clueless parents) perceive as a gentle petting motion. The best trained dog can, and WILL, react to another dog's aggressive behavior. That's why I limit who is allowed to interact with my well trained and socialized Dobermans. Nothing more...

Source(s): These are simply my opinions. I hope this provides the clarity I was apparently lacking the first time around.

To the above answerers: BSL = Breed Specific Legislation.

Sorry, I don't own a dog affected by BSL... closest thing I have is a Boston Terrier, lol. Though I have had people tell me what small pitbulls I have. :-P

How do you think about the answers? You can sign in to vote the answer.

I have a muvee of my pits and the granddaughter and my room mate labeled pit bull attack,that you will love,it is the total opposite of the popular hysteria and depicts a licking frenzy brought on by someone saying get them :)

I also have pics of the pitbull nursing and caring for new born kittens and sleeping with my cat draped across her tummy in the bed.

You are welcome to use any of these you like as long as you send the links when you post them :)

Where do i email the pics to?

http://s117.photobucket.com/albums/o44/Sweety8513/...

those are my dogs-- chevy-- the brown/silver dog is a staffordshire--meika the black dog is a lab/american pitbull terrrier and Daisy-- the brindle one is a Plott hound--

we get comments all the time about how we should just kill Chevy and Meika to make sure they dont hurt "innocent people" so I am really proud somone is standing up and saying NO to BSL!

ps please send me a link when you do this -- whether you use my doggies or not

hey i sent you an- email with stills-- it should be from brookie8513@hotmail.com

i'll send some pix 2morro or next day-my husband has to show me how to do it.(not good w/computers!)our dog,"mr. gingersnap" is an unusual mix-mom is a tibetan terrier,dad is a pit/chow cross.mom weighs 19 lbs,gingersnap is 65 lbs and altho a gr8 watchdog and fabulous barker,he's gentle kind and sweet,just like his incongruous name.(he looked like a tiny gingersnap as a puppy-now,not so much!)good luck in ur efforts!please e-mail me and tell me where/how to send u some pix? nubianprincess2007@yahoo.com.

Source(s): big dog fan

Hi there I will send you some picts of me and my pups in the morning I will see if some of my friends from dog training will send you some picts also. With BLS breeds

I will email you all of my pics of my APBT, my boarder wolf, my catahula cur lab and the boarder wolfs puppies with me, husband and my kid and each other. Would you like me to take some video and send it to you as well?
Still have questions? Get your answers by asking now.