Do you think most individuals who repeatedly call our president names or put down our troops are taking?
Their own personal failure out through the internet?
Update:
What's with the name calling, anyway? Seriously, feel free to disagree with policy or things the president is doing.. You have that right 'cause you're an American.. But what you're spewing out isn't disagreement, it's pure hatred!
Update 2:
Chi guy - How are they stating facts when they're calling our president a monkey? Or disrespecting our troops? Those aren't facts.
Update 4:
Shirley Phelps Roper - Interview:
http://www.youtube.com/watch?v=6zSvY2Up2EA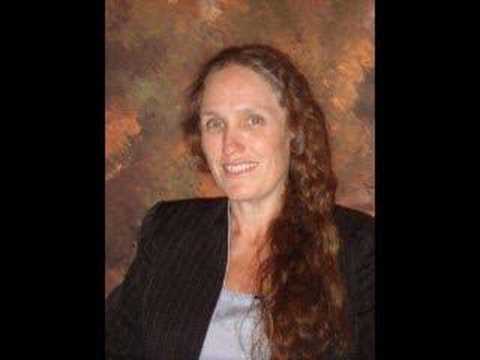 &session=5ZZnkY5Yxr6us4wJKZ-VBbxjW-i4K7uST6i6DNwyCiGP_iQ5H59-KLI_1clwzWD5YT5OBofATowaDSKsG0dApCzQI_Y97wimXZZOSlseIWk5VcvEPK5W3zKtLEnI-aAag_7aKK9UAttuuPA66fwlT6NOvY_WXSi_h_7z0S216gUwJMjafhKQLuHxksgDfrsXPjplAVMDElzdm5G8sNoK6RqKk4pJwyBvZ4op_Lt15BZStP2Ydd0frI3tMg7TPfT5LsgGNMc9W9pjDCbz9TpkHQSYwn_UkF_g6rxAAj0jC8E5fh235mtHGijO5iKjKqdL
Update 5:
Sorry, here's the right link:
*************
http://www.youtube.com/watch?v=b3PyoUPcobA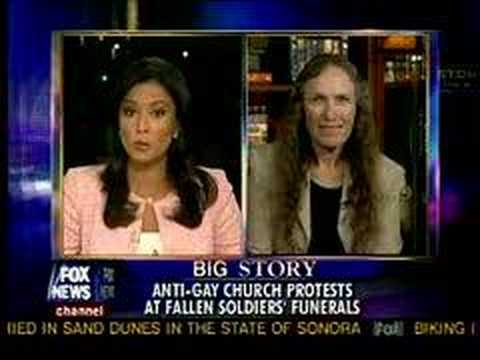 Update 6:
Sorry, here's the right link:
*************
http://www.youtube.com/watch?v=b3PyoUPcobA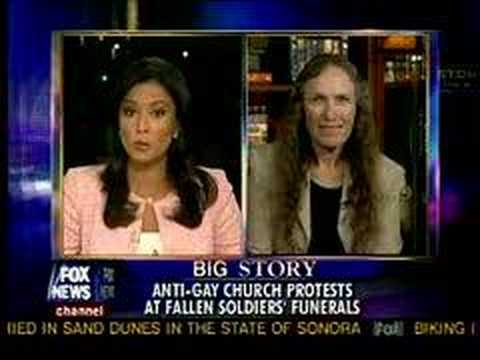 Probably. There's definitely something wrong with them.

If you want to debate or critique policy, have at it. But just insulting our president and the troops, or anybody else really, is just a reflection of the self-loathing and inadequacy that resides deep within those people.

Login to reply the answers

G.W. Bush should not be called names... he needs to be removed from the office.

I used to think that he was just not too bright ever since he started talking about invading Iraq, but after 5 years of following his actions, I changed my mind... He is not stupid, but he is much more sinister than that. For the last 6 years, the Bush administration has been on a very daring and an icredibly comprehensive crusade to amass the power and control with a complete disregard for public interests.

What is really staggering to me is that people are being fed lies like a bunch of docile cows by the administration and not protesting.

Login to reply the answers

Well that argument can be flipped around too, can't it? Do you think most individuals who repeatedly call those who protest the actions of our president names are taking their own personal failures out through the Internet?

My success or failure has nothing to do with the accuracy of my assessment of the President's job performance and I don't think putting the troops in the middle of the political debate as both parties have done is appropriate or good for our country.

Our troops are heroes before they ever go into battle. They are heroes because they took an oath to follow the orders of the President, no questions asked.

Asking them what they think of those orders, as liberals do, is inappropriate and undermines that oath. Suggesting that citizens who exercise their 1st-Amendment right to question those orders are un-American and somehow traitors, as conservatives do, is also inappropriate and also undermines that oath. Unfortunately, since most Americans don't serve their country they don't understand this.

When I served I didn't concern myself with politics. I concerned myself with backing up the guy in front of me.

I think a lot of the libs and cons on this site just don't get that.

Login to reply the answers

I call him the names I call him because those are the things he is; I base them on the things he's done.

He IS a mass-murderer, as he has slaughtered well over 600 THOUSAND people, and counting.

He became a torturer and rapist when he ordered people under his command to commit those atrocities.

He has lied so many times there's no counting.

He repeatedly gives no-bid contracts to known thieves, making him a thief.

And so on.

I don't call him "chimp" and such, because that's just stupid.

I never put down our troops, as they are victims of Bush's criminality (although some have perpetrated crimes, such as rape and torture, he bears primary responsibility).

How are HIS crimes MY personal failure?

They aren't.

If he didn't want people calling him a criminal, he shouldn't have committed crimes.

Login to reply the answers

How do you think about the answers? You can sign in to vote the answer.

I really haven't heard anyone putting down our troops, except for former Secretary of Defense Rumsfeld. That definitely was to deflect blame for his own personal failures.

Login to reply the answers

No you are right. No one has a right to call anyone anything other then the name given to them at birth. I personally cannot stand President Bush. I didn't vote for him. But all the same, I was taught to love your neighbor. I was taught to love those that hate you. Hugs those that punch you. Pray for those that curse you. So it doesn't matter if I agree or disagree with someone's policies, it doesn't mean that I shouldn't love and respect him.

I think people need to be more like Jesus. Now everytime we want to call Bush names, we should say to ourselves, What would Jesus do. And instantly we should walk away.

Login to reply the answers

It's obvious Bush doesn't give a crap about the troops. They're only a pawn in the game. Bush and the troops are completely different entities.

Login to reply the answers

I hate warmongering scum like Bush that are responsible for the deaths of thousands of innocent people. I hope that one day he will face justice, and/or die a slow and painful death.

The troops? They're hired killers (and they ARE hired killers) that follow the orders of the neo-con filth in Washington.

I "put down" the president because I have respect for human life. If he wants it otherwise then he can apologise to the people he deceived and to the families whose lives he has destroyed.

Login to reply the answers

I have never insulted a soldier but as for our president I only voice that I disagree with him...I actually think people are angry because they do not like the way things in the WORLD are going.

Login to reply the answers

No I don't believe that for a minute. I do quite well in my personal life, and yet sense Bush's disdain for the average American and for the U.S. Constitution. He is quite like a monkey in a suit, he is a sociopath, and it is obvious through even his televised speeches. I call him Bozo at times too.LOL. I fully support our troops, they have no fault in this war of George Walker Bush, as their commander, he sent them there and they are doing their jobs. Just like I did when I was in the Military...I did what my Commander asked of me....following the chain of command. But, heed the words of a great republican president..."To announce that there must be no criticism of the President, or that we are to stand by the President right or wrong, is not only unpatriotic and servile, but is morally treasonable to the American public."- Theodore Roosevelt, 1918 .... I DO NOT support the BOZO that currently occupies the White House, and that is as American as apple pie my friend! We fought for the right to disagree and I totally disagree with the current administration. God Bless our Troops!

Login to reply the answers

I've seen many people put down Bush, I've not seen or heard even one put down against the troops, not even from the farthest left viewpoint. Where do you get that?

As for name calling, that comes with the territory. Why don't you reference all the Cons who call Clinton every name in the book? Don't hear many complaints about that from your side.

Login to reply the answers
Still have questions? Get your answers by asking now.